Music Reviews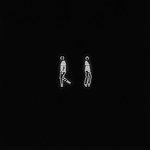 Max Richter Infra
(Fat Cat/130701)

Max Richter's Infra begins with a faint transmission in the background. In what sounds like the turning of a radio knob, the thin electromagnetic waves suffocate in a vast, empty chamber of strings. Seeking a call for action, the frequencies gradually become clearer, journeying in what appears to be a cosmic, desolate open space that brings to mind an absence of confidence. Richter's compositional form set an atmosphere of discomfort, as if one were about to witness the beginning of something glorious but nonetheless unsettling - or even forbidden.
Originally incepted as a score to a 25-minute ballet piece choreographed by Wayne McGregor, Infra isn't meant to be just a fully rounded expansion of previously restrained creativity. Instead of generating emotion by way of corporeal movement, Richter's piece entices the senses by grounding both analogue electronics and chamber instrumentation into a fully orchestral piece. However, the recorded version doesn't stray from its original source, as the extended piece brings about more dimensions to a composition that still sounds very much like a score for a visual medium.
Infra could be thought of as a consummation of two separate entities that lineate in their separate ways until the climax binds them into a unified piece. Composed of two multiple parts, named Infra and Journey, both name structures have very noticeable differences. The first parts of Infra resonate with clarity, shifting between piano-driven balladry and expansive string progressions. Journey, parts 1 and 2, have a more indefinable structure, composed of jarring, electronic beeps that permeate while the more traditional instrumentation is held to the background.
Defying any preconceived notions of what minimalist work should be, Richter is really more of a traditionalist. Even if his approach to repetition can give the impression that the pieces are elementarily jointed into stagnant build-ups and dramatic climaxes, Infra really blooms when little details come into play. Pieces mesh together so they can unexpectedly leverage two distinctive moods. Short, manipulated segments of interference begin to emerge in more traditional pieces for the sake of increasing dramatic effect. When finale Infra 8 ends with a full on string orchestra, the entire processed ambience has faded away. Richter makes sure that his experimental flourishes are mainly a décor to expose his classically trained profile. All in all, he's never been one to bask in excess.
Though many assumptions could be made of Richter's true embodiment, Infra will once again beget more questions than answers. This is truly a testament to his ability of breaking the usual classical mold, as it is virtually impossible to outline his musical branding. Coming from the same league of late 20th Century classicist composers like Philip Glass and Arvo Part, Richter continues to illustrate a strong forte for composing grand string quartet arrangements with a dose of melancholia. Infra is a pensive and deeply involving achievement, which rewards long after the credits have finished rolling.
1 August, 2010 - 18:58 — Juan Edgardo Rodriguez