Music Reviews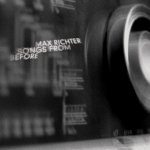 Max Richter Songs from Before
(Fat Cat / 130701)

It is an unfortunate truth that many musical works that attempt to merge popular and classical aesthetics are woefully naff. Often, philharmonic orchestras, string quartets, and classically trained vocalists find themselves hastily drafted in to bolster the pop or rock album lacking sparkle or potential hit records; when classical music goes popular, it tends to do so in the form of fat singers past their best, concerts with fireworks, pretty female violinists in evanescent dresses, or middle-ranking vocalists with a nice smile and a gimmick. Yet where the relationship between traditional compositions for orchestra and popular music can be fruitful is in the experimental sphere, particularly at its electronic outposts.
One such example of the fruitful exchange between contrasting, even contradictory aesthetics is found in the work of Max Richter. A classically trained composer and pianist, and a true modern European, with studies in Edinburgh, London and Florence, Richter was a founder member of the Piano Circus, a pioneering and immensely successful ensemble who commissioned and performed work by the likes of Arvo Pärt, Brian Eno and Philip Glass. He went onto work with Future Sound of London, initially as a pianist, then as a co-writer on the album Dead Cities; his subsequent involvement with the group included production, mixing and co-writing on the album The Isness, and his work also found its way onto the drum 'n' bass pioneer Roni Size's In the Mode.
All of which really goes to underscore Richter's engagement with modern electronic music and the history and tradition of the classical mode. His work has been called "post-classical", perhaps an attempt to get around the misnomer that is "modern classical"; his work fits into a classical tradition of rupture and the piano that might include Mozart, Debussy and Cage. Richter's twist on the creation of precise yet emotionally compelling piano and orchestral compositions is his use of found - or better said, overheard - sounds: thus Songs from Before gives the impression of being a short-wave radio broadcast from the past and far away. In the 80s, Richter spent time building and customising analogue electronic instruments, and with the Piano Circus he was keenly involved in the use of live sampling. His first full-length outing, Memoryhouse, released on the BBC's Late Junction imprint, charted an imaginary journey around European history, and drew on literary, historical and musical sources, many appearing as noises laced throughout the disc. His second album, The Blue Notebooks included readings of Kafka's diaries by Tilda Swinton alongside choral and orchestral compositions. At the heart of the Songs, here as on his earlier work, stands Richter's piano playing, accompanied by cello, violin and viola, with Robert Wyatt's unassuming readings of Haruki Murakami's Kafka-esque text, capturing a mood between pensive, melancholic and reflective. Songs is also an album that warrants a good stereo: recorded at Eastcote Studios on 16 track 2 inch analogue tape on the so-called "Bob Marley" MCI desk, there's a rich, warm, yet murky depth to the bass sound.
One of my colleagues here at noripcord used Richter's work as something of an introduction to non-guitar based music, an illustration that still holds true today. Richter's music is about the depth and range that electronic valve boxes and cat-gut string sound tables can achieve. Future projects including work on Jarman's unseen Super-8 films and a new film by Stanislaw Mucha, as well as music for the artist Darren Almond and a tour next year, should see Richter achieve some of the recognition he deserves. Here this before it turns up in an advert.
12 September, 2006 - 23:00 — Ben Bollig