Music Reviews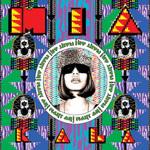 M.I.A. Kala
(XL)
Buy it from Insound

Have you ever been to Hounslow? It's not a question I ask often. I commute through it on the train each week and I don't see much more than a platform and a bike-rack. It's a few stops down the line from Staines, the town that spawned the comic giant Sacha Baron Cohen and the accompanying stereotype, and a stone's throw from Twickenham, that glorious fortress of posh people bashing into each other in the name of sport. It's pretty anonymous, just like much of outer London, a skyline of high-rises with Heathrow's symphony to match. But, as they say, from unremarkable beginnings greatness is born.
And Mathangi "Maya" Arulpragasam, or MIA to you or me, is just that. And music just handed over the microphone with which to impress herself upon the world: she ranked 49thin the TIME magazine 100 most influential 2009; she's a famed subversive political and charitable activist, and becoming a mainstay and pioneer of popular music and fashion in the process. If her innovative debut LP Arular put her on the map, her second, Kala, left her well and truly running it.
Kala opens with Bamboo Banga, it's a fierce display of her skills as an MC. Over snares and beats that make you move whether you like it or not, she snarls "We knocking on the doors of your Hummer, Hummer / Yeah, we hungry like the wolves hunting dinner, dinner". That signature rhyming structure and lyrical dexterity features again on Hussel as, cheeky as you like, it confesses "illegal, I don't pay tax, tax / EMA, yeah I'm claiming that, that". Brave stuff, but this album shows off with far more than just a few choice rhymes: the hooks throughout are swaggering and bold: BirdFlu, Boyz, and Paper Planes are just a few good examples. And while Paper Planes is the hit, it's certainly not a standout here.
Jimmy is that, it's personal and endearing – a first for MIA – as she pleads "I know that you can hear me / start acting like you want me." But its triumph is the staccato stringed tune which sweeps across disparate and shimmering synths – that killer melody alone exhibits her cool proficiency for a pop gem.
Its pop potential aside this music is eclectic in the extreme, take the aboriginal childhood rappers of The Wilcannia Mob that feature on Mango Pickle Down River, spitting verses across percussive use of a didgeridoo like "When the river's high, we jump off the bridge / and when we get home, we play some didge". What is even stranger and more wonderful, is that it works.
It's not all success though, 20 Dollar and World Town represent a mid-record slump, not because they're political – in that sense they're hardly exceptions – accusing the listener "Do you know the cost of AKs up in Africa?" and "Every little dollar just keeps [the impoverished] down more." It feels like the tracks and in turn the album suffer in trying to accommodate a clear opinionated message – irrespective of whether that in itself is a good thing.
That said, for the most part Kala an exceptionally well executed record and this is embodied most by XR2: it's a huge, brilliant and shameless riff strung across unsmiling vocals as Maya reminisces about London life, and drugs: "Good time all the time / Brick Lane massive, we were like grime". MIA might now live in LA; she might have spent much of her youth in Sri Lanka and only learnt English at 10, but you can't deny it, once a refugee she's now one of our popular culture's greatest exports – so be proud that she's from Britain… and Hounslow.
1 October, 2010 - 22:49 — Joe Iliff