Music Reviews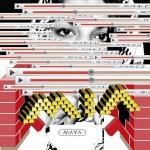 M.I.A. /\/\/\Y/\
(N.E.E.T. Recordings)
Buy it from Insound

London-born Sri Lankan Mathangi "Maya" Arulpragasam could just be the perfect pop star. She's that irresistible, hard-to-ignore mix of intrigue, fun, controversy, branding know-how and beauty. She's always on hand with a quotable soundbite, whether it be pertaining to herself, other artists or political activism. Last year, she was listed as one of Time magazine's 100 "World's Most Influential People" and - despite not even considering herself a musician - she's already made two albums of glorious, cacophonous, joyous, genre-melting, Technicolor pop. Both Arular and Kala tore up the rule book, with M.I.A.'s keen magpie-like musical eye picking out hip-hop beats, playground rhymes, bhangra rhythms, philosophical rhetoric and unlikely sound effects, and blending them into something greater than the sum of their parts. In 2005, none other than Nas called M.I.A. the sound of the future and over the last five years, he's been proved correct.
However, M.I.A.'s latest LP, the typically contrarily-titled /\/\/\Y/\ - or, if you prefer, Maya - hasn't quite been receiving the praise of her previous two efforts. This review comes over a week after the album has been on general release, and while it may be considered bad form to read the views and reports of others before setting out to chronicle your own opinions of a record, the fallout has been difficult to sidestep. So, why the cold shoulder for /\/\/\Y/\? Has M.I.A. really released a dud, or is it the revenge of the hack - payback for M.I.A. tweeting the telephone number of New York Times journalist Lynn Hirschberg after an unfavourable profile? Happily, I can report that M.I.A. has NEVER made my telephone number available in the public domain (she doesn't even have my number - ha! More fool her), so you can rest assured this review is free from any personal vendetta I may have had.
Although M.I.A.'s endlessly quotable persona can be a gift to the press, she does tend to lean heavily towards conspiracy theory on occasion. She recently claimed that the Sri Lankan government are watching her and her child, and the theme of invasion of privacy continues with opening track, The Message, where over a burbling bass motif, a distorted, robotic voice unemotionally states that "the iPhone's connected to the Internet connected to the Google connected to the government". Outlandish maybe, but about ten times more interesting and inflammatory as you're likely to get from your average airhead pop strumpet.
Where M.I.A. really excels though, is her innate ability to create an addictive kaleidoscope of sound, crashing disparate elements together and forcing them to fuse like a persistently stubborn alchemist. Steppin Up, in particular, is an intoxicatingly heady mix of drills, urban machinery, whistles and the kind of playground rhymes you'd expect to hear over footage of schoolgirls playing Double Dutch in the street. An interesting side-effect of listening to M.I.A. is that the utter uncompromising brashness of her music is so exhilarating that it can inspire confidence in you. Try listening to Steppin Up or the jackhammer drums and crunching, clipped riffs of Meds and Feds while walking through a populated area and it'll make you feel around ten feet tall.
M.I.A. isn't a one-trick pony, however, and she deftly demonstrates that she can do things slightly more subtly when required. Paper Planes is her best-known song and her most accessible, and it's a combination she looks to repeat on leading single, XXXO. It's odd to hear M.I.A. not rallying against some form of oppression and doing what could almost be considered a traditional love ballad, but her restrained vocals give the music the chance to take hold and envelop your senses. The disorienting recipe of huge bass drum, auto-tune and hardly any mid-range make Tell Me Why consistently intriguing, and the Animal-from-the-Muppets drumming, buzzing riff and primal vocals make Born Free a defiant joy.
All this means that /\/\/\Y/\ has some of the best tracks of any album you'll hear this year. When M.I.A.'s on her game, there really is no-one to touch her. It may well be heavily disguised by the spacing of the good songs but unfortunately, /\/\/\Y/\ just seems to not have enough ideas. Maybe it's no longer being able to provide "the shock of the new", maybe it's the distraction of family life, maybe it's just a stumble or maybe it's - whisper it quietly - the fact she's so busy courting controversy she's lost sight of what made her great in the first place, but this album sounds half-baked on more than one occasion. Teqkilla is a bad title and a worrying example of when M.I.A.'s Midas touch deserts her, It Takes a Muscle is rancid ska-lite and final track, Space, is disappointingly non-descript.
In fact, the blandness of a closing track of Space is symptomatic of the contradictory nature of /\/\/\Y/\: an album that veers between quixotic brilliance and insipid dullness. It's possible that the crossover success of Paper Planes has left M.I.A. in a difficult position where she wants to stay true to her roots and ethos whilst also attempting to break into the mainstream. On the evidence of /\/\/\Y/\, she could be in danger of achieving neither.
Let's get some perspective here, /\/\/\Y/\ is a good album by anyone's standards. However, it's the fact we're judging it against M.I.A.'s (granted, incredibly high) standards that it's so frustrating, and we all know she can do better. M.I.A. has now made a trilogy of inventive, engrossing records, but for the sake of music we'd all better hope that /\/\/\Y/\ isn't the beginning of the end.
19 July, 2010 - 21:25 — Joe Rivers