Music Reviews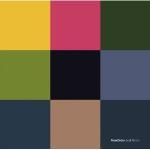 New Order Lost Sirens
(Warner Bros.)
Buy it from Insound

It has been an eight year saga that has included a break up, some legal drama, some short-sighted side projects (Bad Lieutenant, Freebass, The Light), and a semi-reformation. New Order fans have endured a rollercoaster of news since the release of Waiting for the Sirens' Call in 2005. Most recently, with the notorious reunion of everyone except Peter Hook, New Order has been touring and spreading rumors about a new album. Those rumors should not be confused with Lost Sirens, which is a collection of studio outtakes from the Sirens' Call sessions. What makes this album significant is that it may very well be the last New Order album that features Hook on bass. As well, Lost Sirens perfectly epitomizes the New Order work ethic: it took eight years to release a collection of non-album songs, a collection that may not even interest the most diehard New Order fans.
The songwriting here naturally reflects 21st-century New Order, with shameless lyrics about love set over mid-tempo, verse-chorus tunes. There's very little out of the ordinary in terms of instrumentation, which is also to be expected. Opening song I'll Stay With You has enough life in its driving verses, polished production, and Bernard Sumner's lovelorn chorus ("I'll stay with you till hell freezes over/We are to each other like sister and brother") to keep listeners interested enough to explore the rest of the album. Unfortunately, that interest wanes fairly quickly.
Other hopefuls from the album fall flat. Sugarcane, as its name suggests, is entirely too saccharine in its disco-laden chorus; I couldn't help but wonder how anyone with an appreciation for Love Will Tear Us Apart would ever be able to enjoy this song. I've seen a lot of good press about Hellbent, which debuted on last year's TOTAL, but most of this was from fans desperate for anything "new" from the band. As it turns out, it, along with Shake it Up and I've Got a Feeling, the unimaginative guitar riffs and mid-tempo beats come off less like a glorious New Order tune and more like something from a bad Soup Dragons comeback. It should be mentioned, however, that Shake it Up features the only classic Hook bass line, which does salvage it in some regards. That the recycled theme of breaking out of the ordinary ("Does it ever feel like your own life?"), a theme that's been explored in countless other New Order songs (i.e. Temptation, Regret, Turn My Way, Krafty), has been used here simply emphasizes its irrelevance in the career of a band capable of far better.
The only intrigue to be found here is the reworked version of I Told You So, a song originally featured on Sirens' Call. At first, the percussion on this version sounds borrowed from the classic Ruined in a Day, but as it progresses, it proves itself to be more reflective and listenable than its original. Its position, however, as the last song of the album makes its effort a little too little too late to round out an otherwise underwhelming album.
Anyone expecting some sort of lost treasure in this collection will be let down. There is no groundbreaking song like Crystal or Krafty, songs that saved the last two New Order albums, to be found on Lost Sirens. New Order seemed to fall into the same songwriting trend as Echo & the Bunnymen and The Cure: lyrics that were once poetically esoteric are now wince-inducing in their obviousness, while the music has devolved from progressive and imaginative to simple and bland. For the completists who need everything ever released under the New Order brand, here is Lost Sirens, but for everyone else, may I recommend just digging up and listening to Technique?
16 January, 2013 - 03:54 — David Hogg