Music Reviews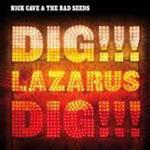 Nick Cave and the Bad Seeds Nocturama, Abattoir Blues/The Lyre of Orpheus/Dig!!! Lazarus, Dig!!! (Reissues)
(Mute)

The fourth installment of reissues for Nick Cave and the Bad Seeds: It speaks to the level of work Nick Cave has produced during his very prolific and abundantly brilliant career that a documentary series spanning every reissue from 2008's From Her To Eternity till Dig!!! Lazarus, Dig!!! didn't need to feature the man himself to get across his genius. Band members and friends; admirers and peers — a wide array of talking heads discussing the impact of Nick Cave and the importance each album held.
As we find with this installment, beginning with the uneven 2003 release Nocturama, the naughties have insight, this post-90s, post-80s Cave an elder statesman, smooth crooning stilted poet in a blazer, brimming with a wit aided by twenty-dollar phrases, a dark sense of humor and a romantic succulence that makes female English Lit majors melt. The line from Dig!!! Lazarus, Dig!!! in the song Today's Lesson where Cave states that the Sandman "likes to congregate around the intersection of Janie's jeans" is demonstrative of the type of wonderfully constructed perversions he's gotten away with, his pen a dispensary of his unafraid lust as well as his damn near peerless talent for storytelling. It's been agreed upon that Dig!!! Lazarus, Dig!!!, if it does indeed apply a cap to the Bad Seeds, is a best case scenario closer by any stretch of reality. Having the Mute reissues end (again) at this point, reminds fans, a mere four years after its initial release, that lightning struck and a fourteenth album from a band at it almost thirty years resonated with a younger crowd and overjoyed those who'd stuck with the Bad Seeds for their entire run.
With Nocturama, though, there was some shaky ground.
Recorded in four days, Nocturama, followed the acclaim of 2001's No More Shall We Part with mixed reception, an uneven collection of songs that didn't quite deliver on the strength of what had preceded it. Nocturama marked the last time Blixa Bargeld would appear on a Bad Seeds album and reinvigorated a creative relationship with producer Nick Launay who hadn't worked with Cave since The Birthday Party's Junkyard album in 1982. Launay would continue to produce Abbatoir Blues/The Lyre of Orpheus and Dig!!! Lazarus, Dig!!!.
While Nocturama is considered a weak transitional album for the band, it's likely to benefit from hindsight to some degree with the reissue. In the ongoing documentary series, Do You Love Me Like I Love You, Bad Seeds drummer Jim Sclavanous observes that Nocturama probably suffered from following as highly rated an album as No More Shall We Part. "Well, we kind of like that one, 'cause it is so neglected," Sclavanous admits. "We kind of favor that one. We love all our children, but the ugly ones even more so."
But, Nocturama is also a strangely conceived and oddly sequenced combination of the piano ballads that had informed the band's prior two albums and some of the more energized post-punk songs that sound more in line with their Let Love In output. Slated to be more of a "return to form," the Bad Seeds were in flux, following a heavily trod path with some uncertainty ahead. Still, A Wonderful Life is a very moving opener—powerful low end from Martyn P. Casey and Cave is excellent on the keys. The emotive pop wonder of Bring It On, aided vocally by Chris Bailey of The Saints, offered the band an opportunity to capitalize on the bootylicious video trends of the time by making their own version out of jest (video is included with the reissue). The strength of Dead Man in My Bed is difficult to deny and, despite its length, Babe, I'm On Fire is rife with groove.
The choral embellishments provided by the London Community Gospel Choir added punch to Cave's follow-up, the double-LP, Abattoir Blues/The Lyre of Orpheus. As an opener, Get Ready For Love is difficult to match, some strange assembly of hard rock and Supremes tonality, intensified vocal melody arcing beneath Cave's voice. If considering the album a spiritual awakening seems ridiculous, it could be considered a creative one.
Recorded live in Paris soon after Nocturama, and using Led Zeppelin's Physical Graffiti as somewhat of a model, the double-album was divided using "hard" and "soft" as criteria. Sclavanous was considered more of a rock drummer while second drummer, Thomas Wylder, seemed more on the jazz side of percussion, so they both became the determining factors as to how the music for Abattoir Blues/The Lyre of Orpheus would be sequenced.
Out of the two, I'm more of an Abattoir Blues fan as it boasts songs like Cannibal's Hymn, Hiding All Away (which St. Vincent, or Annie Erin Clark, gets hot and bothered discussing in this installment of the documentary) and the enthralling, There She Goes, My Beautiful World, which utilizes the choral dynamics perfectly and features one of my favorite Cave lines: "John Wilmont penned his poetry riddled with the pox/Nabakov wrote on index cards at a lectern in his socks/St. John of the Cross did his best stuff imprisoned in a box/And Johnny Thunders was half alive when he wrote Chinese Rocks."
However, The Lyre of Orpheus is also a fascinating opener, the strange string arrangement carrying Cave's treatment of the Greek musician. As an album, there tends to be more ballads, but it does hold its own, especially with the overt drama of a song like Supernaturally and the queasy piano flurry of Carry Me. It was a productive time for the band who'd tapped into some newfound energy as they put it, releasing one of the most consistent and creatively diverse albums of the band's career.
As the wealth of insight has blessed every reissue either through direct discussion or in-depth liner notes, the staying power and brilliance of Nick Cave and the Bad Seeds is far from dispute. A body of work many artists strive to match or transcend, this last sprig of fruit from their extensive body of work offers a momentary creative lapse, which precedes a return to form and a perfectly conceived swan song. The men aged, but their music remained primal, no weathered perspective or dilapidated sensibilities. Consider this series the band's triumph and evidence of their refusal to weaken.
26 October, 2012 - 19:11 — Sean Caldwell