Music Reviews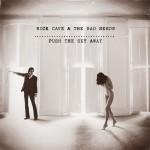 Nick Cave and the Bad Seeds Push The Sky Away
(Bad Seed Ltd)
Buy it from Insound

Nick Cave was born to make music. That goes without saying; any artist with a great album to their name was born to make music, but Nick Cave is such a great artist that it's almost unfair to not remind people, lest we find ourselves overstretching our ambitions—Cave, during a Twitter Q&A, recently told fans who want to be like him to "lower your expectations." Rude? Yes. Cocky? Definitely. But Cave has fronted three well-known, critically acclaimed bands, and his tenure with the group behind Push The Sky Away, The Bad Seeds, has outlasted Sonic Youth. If they were The Rolling Stones, they would be making Undercover right now. But then, Undercover wasn't a very good record, while Push The Sky Away is. Nobody has remained as relevant and creative as Nick Cave over the course of music's last 30 years, shifting from post-punk to garage rock, albums full of ballads, noise, and back again whenever he wants, still finding time for fairly diverse film scores with Warren Ellis. Never mind that they have never had a hit in the United States and that their biggest source of discovery among youth is from a Harry Potter movie—Nick Cave is one of our few truly great songwriters, up there with Thom Yorke, Jeff Tweedy, and Sufjan Stevens. Take a bow, Mr. Cave, you were born to make music.
How born for it was he? Well, he lost long-time collaborator Mick Harvey, which is sort of like when Bruce broke up the E Street Band to work with those other guys. Or it should be, except it's not. That same Warren Ellis who did film scores with Cave steps in, replacing the guitar with loops and electronic ambiance that harken back to early Bad Seeds records with their noirish personality, if not for the fact that the sound is grounded very, very firmly in the present. Push The Sky Away sounds like something The xx would make, except Cave's songs are more complex, progressing narratively as Ellis alters his loops and Cave floats from one harrowing image to another; trees standing like bleeding hands on We No Who U R to legs wide to the world like bibles open on Water's Edge. Somehow, on Wide Lovely Eyes between those, he finds a way to manage the lovely: They've hung the mermaids from the streetlights by their hair/And with wide lovely eyes you wave at the sky/And near the high window watching the ride/ The waves of blue and the waves of love/You wave and say goodbye. Pound for pound, it's one of the most emotional verses Cave has ever penned, up there with most of what made it to The Boatman's Call.
It's the will of love, it's the thrill of love, but the chill of love is coming down, people, Cave warns as Water's Edge ends. Indeed, the next song, the somber guitar ballad, Jubilee Street, is a tale of love gone wrong, told stereotypically through a prostitute but livened by its lyrical complexity. The song is told almost entirely with ugly tactile images, and a simple guitar riff paves the way for an unexpected surge of strings and distortion—one of just a few moments on the album—and a simple but empowering choir. It's the lyrical seriousness that was missed sorely from Grinderman and the garage-rock of Dig Lazarus Dig—good albums in their own right, but not as confident and honest as Push The Sky Away, which repeatedly sees Cave treading new ground or looking back fondly on the traits that we thought were long gone.
That's part of the magic of Push The Sky Away: Every song feels like a new look at familiar objects, like asking nine different impressionists to paint the same thing; stylistically cohesive, but each distinguishable in unique ways. Look ahead to Higgs Boson Blues, which prods along for 8 minutes with quiet tom-drums and eerie backing vocals. Cave lets you see an entire picture as he aches, hear a man preaching in a language that's completely new/making the hot cocks in the flophouse bleed/while the cleaning ladies sob into their mops/and a bellhop hops and bops. It's the hyper-conscious rhyming that marked Tender Prey combined with the unforgiving dread of Murder Ballads. Every carefully executed rhyme and modifier creates mood, so much so that when he begins to sing about Hannah Montana doing the African Savannah and Miley Cyrus floating in a swimming pool, it feels completely natural. Every day signs build and build into a grim, horrifying portrait, finally exploding in a collision of the absurd and the everyday that can only be summed up by the song's wonderfully scientific title.
But for all of the flashes to the Nick Cave we know, it's easy to miss that this is an entirely new face of Nick Cave. The Boatman's Call memorably begins, I don't believe in an interventionist God. A lyric from Mermaids recants, I believe in God/I believe in Mermaids too/I believe in 72 virgins on a chain, but then cautions in the background, why not, why not? It's hard to discern whether Cave wants us to answer that question, but to suggest that 21st century information spread has something to do with it is probably assured. Wikipedia is heaven when you don't want to remember anymore, he laments on We Real Cool. Get past the initial shock, and you can see that lyric permeating every story Cave tells on Push The Sky Away. They are filled with uncertainty and recursion. This is a bit too obvious and unfulfilled with Finishing Jubilee Street, which harkens back to Jubilee Street for only one line before being dropped, but also through water. Water is an image conjured by two song titles, but it is present in most songs. It's Cave's only anchor, but with information spreading so fast (whether it's true or not, Cave clarifies) it's easy to lose that anchor to something like mermaids. Still, it's the album's only ambition that isn't seen fully through; we want to see Cave believe in mermaids, not just confess to it.
Better at uniting the album are Ellis' minimalist contributions, which Cave described as the album's "trembling heartbeat." They haunt the album's back channels, and strings swell up to create the album's most emotional moments. That Cave and The Bad Seeds can swoop right into the 21st century dream pop scene and outdo all of its biggest practitioners is quite remarkable, a testament to the fact that trendiness and relative originality can only take you so far before you need to sustain yourself purely on songwriting. That's precisely what Ellis and Cave do; the album's most creative aspects are mostly re-appropriations of their own understood patterns and styles, slammed together and tinkered until they work. They aren't trying to change the world, they aren't even trying to change music, but in simply focusing on writing good songs, they remind us what it sounds like when a band is being the opposite of lazy. Many would settle to be the old friend who makes you feel like he never left; Cave wants to be the new friend who makes you feel like he's always been there.
As the album draws to a close with its final, titular track, synths wobble in and out of each channel. Cave urges that you must keep on pushing, push the sky away. For an artist who has made more albums that people will call his "best album" than maybe anyone else in history, it sounds like self-help. Every time someone thinks he has reached his artistic piece, be it the Bad Seeds debut From Her To Eternity to Tender Prey, to the pop-structured sadness of Let Love In, to the break-up of The Boatman's Call, and again with the career-summating No More Shall We Part, he finds a way to do something new and different, make a new "best album." Cave has pushed the sky away again and again and again. What's remarkable is that he always reaches it within a few years. We know better than to call Push The Sky Away Nick Cave's best album, but if you want a portrait of the artist, as an artist, the album qualifies as "essential" even by the strictest definition.
27 February, 2013 - 04:45 — Forrest Cardamenis