Music Reviews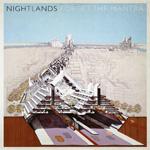 Nightlands Forget the Mantra
(Secretly Canadian)
Buy it from Insound

Considering the vast amount of talent behind alt-country mavericks The War on Drugs, it shouldn't come as a surprise that each of the members have gradually taken turns at manning the wheelhouse. With his new side project titled Nightlands, Dave Hartley has temporarily stepped away from his other day job by composing a delectable swoop of sounds that further extend his electronic contributions. Both projects are simple to differentiate, as Hartley is intent on working from his inward consciousness instead of searching for any resonance in the outside world. First impressions will picture Nightlands as just another name in an overpopulated mound of bedroom pop projects.
As a result, Forget the Mantra is mostly the work of a multi-instrumentalist finding his voice along with an exorbitant amount of ammunition on board. Hartley begins by playing opposites - the title track flows like a divine intervention, chanting the words forget the mantra repeatedly over a swiveling organ drone and electronic horns. It ends with the words "slowly open your eyes", a preemptive warning for the aural journey that is yet to come. As that album cover aptly suggests, Hartley progressively fills the blanks as he recollects his subconscious thoughts. We're along for the ride, listening to all his ideas as we travel in a refreshingly pristine ambiance.
Hartley has ideas – big, big ideas. So much so that he travels across continents to seek for the perfect place he so desires. He holds a special love for African rhythms, since he serves up a thumping, anthemic response (300 Clouds), but also loosens up with jaunty harmonies and reverberating strings (Suzerin). There are also eerie black spots in Hartley's neurological sensors. Vacant California waves surge heavily when the Beach Boys' Till I Die rounds the first half, an incredibly direful tune that always dug deep into Brian Wilson's deep depression. Hartley maintains the originals' mournful ballad, whose "cork on the ocean" belief blends well with the fleeting idealism inherent in each and every one of us.
Until then, Forget the Mantra's experimental touches never stray from delivering a handful of enchanting pop tunes. The introduction to God What Have I recalls Nick Drake's lingering acoustic touches, later breaking into some tremulous psychedelic folk that never quite freaks. Most of the second half follows a more calming approach, incorporating more traditional forms of instrumentation with fragmented arrangements scattered throughout. Hartley's conversation with "Mr. Kim" is especially dreamlike; the tape hissed trilogy is set up as an exchange between two souls, composed of vocal samples that begin in Cheong, 1969 until reaching homebound in 2010. This trilogy moves seamlessly from pastoral folk melodies to acoustic guitar-driven progressions and towering choruses. Beneath all the sonic and tangible elements such as radio transmitters, slashing synth spurts and grimy drum hits, the folk backbone does remain. You can't quite understand what Hartley means by this experiment (it is supposed to be his own), but at least it's haunting sense of mystery will get you to ponder about your own abstract thoughts.
Forget the Mantra is an admirable insight into the thought process of merging dreams with reality. Hartley did draw on many reliable sources to pen this material. The Books is the most fitting example, since Hartley likes to make sense out of manipulated sound elements and enlightening phrases to achieve existential clarity. Also, it is a bit disappointing that Hartley's trance is very similar to that of Avey Tare, Noah Lennox, or Chris Taylor. I mean, is every psychedelic experience the same wobbly myriad of textures and sporadic colors? Your appreciation for Forget the Mantra will depend on whether you can stomach another neo-psychedelic lab work. The timing may not be right, but this is certainly cream of the crop material.
15 November, 2010 - 22:14 — Juan Edgardo Rodriguez