Music Reviews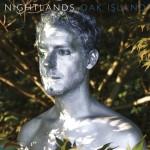 Nightlands Oak Island
(Secretly Canadian)
Buy it from Insound

Nightlands, aka Philadelphia's Dave Hartley, is known for his healthy, mathy formula of instrumental layering and ambiance. His debut release in 2010, the first away from his regular gig as bassist for the band The War On Drugs, was an experiment in dreamy synth-music and psych-pop – and an effective one at that.
His sophomore release, Oak Island, just out on Secretly Canadian, is a logical extension of that debut's theme and style, but is better crafted – or perhaps just better served - and stands as a good example of how subtlety can sneak up on a person and pack a desolate punch. From the open lines of Time and Peace, when he sings, I'd like to invite you … for just a little while, it becomes clear that we are invited but, in fact, the invitation is just a formality: we have no choice but to enter and be carried along in the stream of gorgeous psychedelic pop songs he has created and shared.
Nightlands' particular stylings can be catchy and charming, and one might be tempted to get caught up in warm quirkiness: there's more than a hint of AM radio and 'adult contemporary' to be found in these songs and it makes for a somewhat easy listen, but that might be a deceptive first impression. There is a control and a structure behind the layers and electronic textures that makes it clear someone is in control and that a plan is being followed. The songs on Oak Island are equal parts bell-bottomed nonchalance and high-tech modernity, and the real joy is in witnessing both parts fully.
Songs like Nico and Other People's Pockets are particularly awesome examples of how versatile Nightlands can be. Juxtaposing horns and guitars and – is that a dulcimer? - with beats, echoes, and samba samples is an ambitious undertaking but one he manages to pull off, often with a frivolity that belies true intention. In the midst of a frisky-sounding track like I Fell In Love With A Feeling, he packs a punch by balancing pep with a devastating honesty: Why are you always fucked up at the end of the day? … You can always trade needs for a pill or a line, is made all the more accusatory by its perky instrumentals. The final track, I've Been Looking For Rain, running at just under 2 minutes, is a perfect ending to an album with such beautiful eclecticism. Sounding like a gauzy, sleepy Joy Division, it signals an appropriate end to Oak Island: moody, nuanced and, ultimately, from the heart.
22 January, 2013 - 04:05 — Melissa Murphy