Music Reviews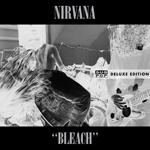 Nirvana Bleach: Deluxe Edition
(Sub Pop)

In 1991, Seattle happened.

Music's underbelly up to that point had begun to surface, cracking the mainstream's sterile veneer with a vigor that a small release like Bleach could never have predicted. The album should've meant nothing: the measly byproduct of $600 and an awkward and poetic presence whose charismatic prowess was likely to have stayed confined to his own hometown. Not that Kurt Cobain couldn't have made somewhat of a dent in the Michael Azerrad-scribed network of indie bands attempting to mean something, (all of whom had an eye on the prize even if a price was tied to it). But, the idea that Nirvana could've made such colossal impact seems extraordinarily farfetched, even with history to confirm its certainty. It definitely caught Cobain by surprise, enough that he took it upon himself to end the era he brought to fruition with just as loud and significant a bang, though with contextually darker consequences attached.

When I first heard Bleach, I was caught up in the mania generated by Nirvana's Nevermind, fascinated by this small band making huge noise and remaining so inherently against their superstardom. To put it simply, it happened that I was a teenager when teen spirit reeked, so Nirvana had resonance. I soaked up their meager discography with gusto and set out to feel appropriately alienated, disillusioned and content to be discontent.

Around June of this year, grunge showed its age and Bleach celebrated its twentieth anniversary. In recognition of the album that led to the album that made its mark, Sub Pop has released a deluxe edition of Bleach, lovingly repackaged with an expansive photo booklet and with added live footage from a Portland, Oregon show recorded in 1990. It's even available in white vinyl, just like it was originally! Having discussed the frills, let's talk about the album:

Nirvana in 1989 was Cobain, bassist Krist Novoselic, drummer Chad Channing and guitarist Jason Everman, whose actual role in Nirvana has since been summed up as an occasional live guitarist and as the sole investor in the making of Bleach. Too bad there's no glory in holding onto the receipt.

Originally recorded by Jack Endino, Bleach does bear the flaws of a cheaply made album, though its abundant feedback and imperfections seem to bless the music with the necessary aesthetics that would later define "grunge" to those of us outside of Seattle. Primal punk-infused fuzz and Novoselic's chunky bass riffs open the album with Blew, leading to Melvins drummer Dale Crover's thump thump thump-heavy contribution, Floyd The Barber. The guitar grinds, the percussion pulses like a smoker's cough. Cobain himself is more or less ping ponging between frighteningly abrasive and melodiously sullen, his scratchy throat bearing more pain than rage in response to something so mundane as a visit to the barbershop.

Somewhat self-involved and probably a little dramatic, (as is the case with any Nirvana release), Bleach is injected with a degree of angst that oddly mixes "somber" with "anger in regard to being somber," though it roars an assaultive tone. Meant as somewhat of a stab at Sub Pop, School metaphorically accuses the label of catering to Seattle's then-blossoming scene with reiterations of "You're in high school, again" communicating its fad potential. Paper Cuts and Negative Creep follow with metallic nuance, Cobain shrieking and squealing his way through each song with an unsettling level of voice box anxiety. While Paper Cuts slowly works its way through its own eerie murk, Negative Creep seems almost laughably simplistic, a quick and easy way to close out Side 1 with a loud cliffhanger.

This formula would be revisited on Nevermind, songs like Breed and Territorial Pissings the balls-out "rock powah" moments offsetting the slower and calmer Come As You Are or Lithium. With Nirvana, artistry and simplicity remain dueling bedfellows, Cobain's inspiration as fueled by Big Black or Scratch Acid as The Pixies or R.E.M.

But, despite that, the second half of Bleach is mostly loud and fast, Scoff, Swap Meet and Mr. Moustache a relentless triple threat that leads to the wallowing hum of Sifting. As much as Cobain attempts to bring his soul into the album with Sifting's slowed-up melancholy, his personality is mostly wrapped up in keeping the album as rock-heavy as possible. In some ways, Bleach is the band's most accessible album as it readily caters to Nirvana's intended audience, though that audience at the time was much more specific and regionally localized.

He shines though through the very jazz-rhythmic School, the relatively upbeat cover of Love Buzz and then of course with the album's only real ballad, About A Girl. Even the swirling guitar jams of Big Cheese and the immediate fuzzy rush of Downer seem to hold true to what ultimately made Nirvana special, which was that they married hook-heavy pop with indie rock eccentricity. They made music mean something again at the beginning of a new decade when it was all showy video glitz and marketable fast-food radio, (kind of like how it is now), and everyone knew it.

But, in terms of sound, what Bleach has going for it is that it better demonstrates the underground aspirations of 1993's In Utero, an album whose main purpose was to allow Nirvana the opportunity to be the band they wanted to be. Nevermind had obviously blemished their reputation as anti-rock stars and turned Cobain into a reluctant spokesperson for the media-dubbed slacker generation, some of whom conformed to grunge trends and embodied the sort of people he'd been battling his entire life.

And, even if the songwriting didn't completely explore the full scope of Cobain's capabilities, Bleach also represents that point in time when money was an object and the music was all that mattered, a precursor to a cultural shift that made Sub Pop a national brand. Its importance is based on what came after, but twenty years later, Bleach still has my affection as not only a major relic of my past but as a prelude to the last time pop music had a soul.
10 November, 2009 - 15:20 — Sean Caldwell