Music Reviews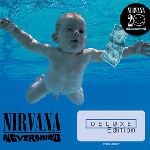 Nirvana Nevermind (Reissue)
(DGC)

Nevermind changed music. That's not debatable. Its introduction of what became the foundation for modern alternative rock and acceptable above the underground has already been established by too many writers in too many places. It's the reason no one knows that "never mind" is actually two words. Nevermind has gotten the recognition it deserves, and finally it's gotten the box set to go along with that recognition. The following is a review of not the material but the reissue. Nevermind has been reviewed to death and we get it, it's one of the greatest records ever made. No one's wondering that. So, what about the quality of the reissue?
My writing comes from a place of love because I am admittedly an enormous Nirvana fan. Some may call it unprofessional to point this out, but I believe it to be stating what others don't want to say. I will openly exclaim that my position on this comes from a place of gratitude because I, as a reviewer and a citizen, am a human being with human thoughts, opinions and feelings. But my personal placement in the Nirvana fan base should be disregarded because who else was going to review this? Someone who's not a Nirvana fan? Those folks are in nuthouses. Those folks protest the funerals of gay teens. Those folks don't have a clue.
The Deluxe Edition (there's also a Super Deluxe -- we'll Dive into that in a second (sorry for the incredibly bad song pun), so hold on) is two discs comprised of forty songs. On the first disc is a remastered take of the original Nevermind album. In all honesty, the first cut was done so well that there's not noticeable differences in sound to anyone other than an audiophile other than a bit more of an amped up EQ and some modern clarity. That's a compliment to the original, so don't take it as though I'm bashing the new; I'm not. Along with the newly EQ'd album, fan favorite B-sides (including the unflinching Aneurysm) and live editions of select songs (School being my personal pick). The second disc is an eighteen track compilation of previously unreleased cuts of songs and tunes that wouldn't reach a mainstream audience any other way. The standouts are a build-up cover of Velvet Underground's She Becomes Me and an underground favorite, the mellow(est) version of the band's original Sappy. These are in a section labeled "The Smart Sessions" (studio demos) along with what're called "The Boombox Rehearsals" (hot out of the oven, raw, pre-studio demo takes that sound like they were recorded on the inside of a trash can--but in the good, Nirvana's trash can way) and "BBC Live" sessions (exactly what their name implies).
Though the two-disc Deluxe edition serves as a great fan experience, the biggest Nirvana lovers are going to want the extra package's worth in the Super Deluxe edition. Take it like this: if you dug into the With The Lights Out box set, you're going to want the Super Deluxe Limited Edition Nevermind reissue. This set includes two bonus discs and a DVD. Given, one of the CD's is an audio-only take of the DVD ("Live at the Paramount") but who's complaining?
The third disc in the entire set is a version of the entire album entitled "The Devonshire Mixes." Essentially it's a rough mix of the album by Nevermind super-producer Butch Vig for the band to hear during the cutting of the record. This alternative mix is more noticeable than the remaster in its bass and treble qualities. The first thing that hit me upon comparison was the new album's "fuller" sound. Full in the sense of "Hey, that's a lotta bulk." which may sound like an upside but looking at it, the band chose the right mix for the release of the album. Though Vig's rough production has a thicker sound, the treble is a bit too low and Cobain's distortion doesn't hit with as much bite as it should. The guitar sounds smoother, more underwater which doesn't complement the dirty punk sensibilities of the grunge masterpiece as well. Kurt sounds more distant in some cuts, as his vocals seem to go from center-of-attention to "I'm in the background." and back a fair amount. Dave Grohl's magnificent drumming is also a bit hidden in bang-it-out choruses. Oddly enough for a mix that comes off thicker, bass master Krist Novoselic's riffs don't seem as present or heavy as they should. Overall, it's interesting to listen to (comparing and contrasting and examining the before-to-after thought process of Nirvana is always compelling) and some fans may even prefer it. I wouldn't call this mix "bad" because there cannot be a bad take of Nevermind. One man's treble is another man's bass.
The finale of the sound explosion that is this set is the aforementioned "Live at the Paramount" concert. The mixing is great for a live album and conveys what Nirvana is in its thrashing sound. There's not an overload of reverb and cheering crowds as in annoying live albums from '80s arena rock douche bags, but a delicate mix of all. The energy within is fully felt. The best live renditions are some of their least known (to the general public) songs, including fan favorite Aneurysm (yet another great listen to the same song) and post-credit-sequence-if-the-original-album-was-a-movie noise track Endless, Nameless. The DVD is a stellar visual element to these songs. It's scary how much it looks like the concert footage was shot yesterday. This is not the VHS bootleg of a club show you got off friends and popped in during bong hits. This is picture quality to be admired, camera-work that adds just as much to the song (cut 'n' chop movement during thrash build-ups and slow swoops whilst the band jams it softly) as the Nirvanic performances do.
The album is amazing. The reissue is amazing. The band is amazing. This cut was needed. It proves that no matter how hard you dig and how far you push it, there's still going to be something left you haven't experienced from the fairly short lived band that changed music. And, though everything (tracks, included artwork, photos and memories) is magnificent individually, the entire package is really what hits you with all sorts of feelings. I was listening to the reissue very peacefully one day when I realized, "Oh my God. The man singing this is dead." This package made me forget and remember at the same time. It hit me hard that the man who seems so alive in our ears and heads is actually gone. Physically. But, as is the case with rarities, B-sides and everything Nirvana, to me the Nevermind reissue is simply a powerful fucking reminder that both Kurt and Nirvana will always be alive and well.
3 October, 2011 - 08:50 — Luredo Marbery