Music Reviews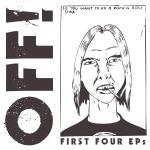 Off! First Four EPs
(Vice)

How long does it take you to get to the point? While you ponder that thought for a minute, OFF! lead singer and all around chatterbox Keith Morris just crushed his socially acceptable posture to illustrate what many punk bands fail to express these days with such confidence. Sixty seconds is all it takes for lead track Black Thoughts to ripsaw a melee of scorching guitars as quickly as possible, as if it were too late to save what's left of his sanity. With a mere two sentences, Morris openly declares what many try to circumvent for a lifetime – a negation of salvation. Because he knows that, as conventional wisdom states, a mere bad thought is a sin in God's eyes.
That browbeat behavior is classic Morris through and through, finally returning after hanging on to his words without the appropriate formation. While it was taking Morris fifteen years to respark the dormant status of the Circle Jerks, it only took Morris one golden year to rethink how things used to work in the Los Angeles hardcore scene. Maybe the puzzles hadn't fit yet. All this time, the secret antidote was the most basic: staying true to your roots. Just like framing a picture that has held on for thirty years, it was time to rekindle nostalgia for the sake of moving forward. Having best friend forever Gret Hetson on his side, they recruited bassist Steven McDonald and drummer Mario Rubalcaba, two experienced musicians who could complete the simple mission of keeping up with their swift chord changes.
The result is First Four EPs, a collection of sixteen punchy tracks that got their name after a few inspired garage sessions. Like revising their salad days, the confrontational attitude and surprisingly conscientious messages ring back to younger preoccupations. Morris, now 55, keeps on yelping like a pissed off nonconformist. Song titles are screamed at the beginning of the songs, establishing the themes as if they were compact quotations for those who live an alternative lifestyle. This should have caricaturesque written all over; another unnecessary revival meant to instantly pick up dust in the shelf.
What's striking about Off! is how they deliver each and every time. It takes 17 minutes to skimp through these tracks, but these official demos are enviable by any high standards. The production sounds rough but sophisticated, giving breathing room for Morris to howl his sharp nuances. Lyrically, most of this package cries like literal colloquialism – Morris justly complains about establishments, poor management, hysteria, and overall ignorance. Except that now he's lived a little bit more to actually assess what once was purely hypothetical. In an era of tax cut debates, political divide, and a recession that rings just as true today, Morris' boiling rage seems especially relevant.
First Four EPs may be hardcore punk by definition, but there is an overall studiousness to the material. For such a lean introductory package, there are some unexpected moments if you listen carefully enough - the high and mighty solos, airtight riffs, and even occasional post-punk tinge is not meant to be taken for granted. Which just adds up to the overall excitement of witnessing the old guard telling it like it is. Morris and his crew still don't give a fuck, but that's because they still care.
11 December, 2010 - 04:21 — Juan Edgardo Rodriguez