Music Reviews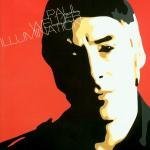 Paul Weller Illumination
(Independiente)

It's turning into a good start to the 21st Century for the Modfather. Last year's Days Of Speed acoustic live album got the big thumbs up from the critics and public alike after the mauling his other post Stanley Road affairs got (very harsh, especially for Heavy Soul).
And with his first top 10 hit in years stashed away alongside more praise, it's hard not to feel good for the man, the last survivor of the 1977 set to still trouble the racks down Woolworth's. Does he feel smug when thinking of Joe Strummer, who in White Man In Hammersmith Palais shouted "you got Burton suits, you think it's funny/turning rebellion into money" at Woking's finest, but who hasn't had a hit in 20 years? He should do.
Unsurprisingly, Weller carries on the direction of Days In Speed. The Neil Young-isms of Stanley Road and the heavy soul of err, Heavy Soul give way to slightly more gentle acoustic guitars from opener Going Places, which recalls the ghost of the Faces in some style. The more aggressive A Bullet For Everyone - almost Jam era guitars with Style Council era lyrics - is a temporary lapse and for the best part of two thirds of the album, it's an easy pace.
This being a Paul Weller album, the usual suspects are wheeled out to contribute. No surprises for spotting half of Ocean Colour Scene strumming away and Carleen Anderson providing some of her trademark warbling. Noel Gallagher even makes a show, playing drums of all instruments. More interesting is Aziz Ibrahim appearing on Spring At Last, an instrumental which is conceptually the most interesting thing it is. As for Kelly Jones providing lyrics/vocals for Call Me No. 5, well it's at least better then anything of the last Stereophonics album.
Undoubtedly, this is a set some hardcore Weller fans may dislike, being absent of the more well known lyrical bile and electric guitars of his primary albums. Others may just appreciate a collection of good songs, perfect for the lazy morning in bed after pulling a sickie.
23 September, 2002 - 23:00 — Peter Mattinson