Music Reviews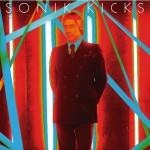 Paul Weller Sonik Kicks
(Island)
Buy it from Insound

At 53, Paul Weller has selected his path with impressive purpose. Loathe to dine out on past glories, he has become increasingly chameleonic in the four years either side of his half century, and though success has followed Weller the solo artist since his eponymous debut almost 20 years ago, critics have embraced him with unprecedented vigour in recent years.
Sprawled across a total of 37 tracks, 2008's 22 Dreams and Wake Up The Nation, two years its junior, covered punk, funk, glam, soul and piano jazz balladry as Weller genre-hopped with impressive deftness. These albums have positioned him as the harbinger of British rock, more pioneering than the vast majority of acts who cite him as an influence.
It may sound trivial, but in a world where many older bands have tried their luddite best to resist the move towards a more digital landscape, Weller's willingness to stream Sonik Kicks, his 11th solo effort, prior to its release demonstrates a willingness to embrace change that sets him apart: "I'm not an expert … but I know it's how most people hear their music".
Its title, if slightly clumsy, points to the record's central tenet: "I think the mood of the record is really colourful … if there was any concept at all, it's to take people on a kind of sonic journey. Not in any thematic lyrical way, but a purely musical colourful trip." And while its 14 tracks aren't quite as experimental as his previous two efforts, even the most straightforward moments are never far from the unexpected, continuing on the same tack begun in 2008.
The album bursts in to life with Green, a relentless throttle that draws from that same Krautrock reservoir that The Fall have relied upon with increasing lethargy of late. Indeed, this sounds like what Mark E Smith et al might sound like if they had the energy. Kling I Klang is a space age take on skiffle while By The Waters is the sort of acoustic Weller ballad that we've become used to over the years, lent a more mature sophistication by the rise and fall of its strings.
As the long-reigning dignitary of modern British rock music, there has been a tendency for the music press to cling blindly to Weller in the absence of similarly-equipped peersso it's important to note that not everything on Sonik Kicks works. Lead single, That Dangerous Age, is self-consciously kitsch Britpop that suggests Weller has been hanging around with Graham Coxon long after their collaboration on 2007's This Old Town. Complete with shoop-shoop Cockney backing vocals, it's an update on Charmless Man that feels like an anachronism and little more than an attempt to produce a radio-friendly promo.
Halfway through, however, comes the axis around which the record turns. Study in Blue, with its deep bass groove, off beat snares and ethereal, wandering harmonica is a duet between Weller and wife, Hannah, that's underpinned with pure dub. It clocks in at just under seven minutes but its subtly shifting dynamics mean that it never seems overly wrought or drawn out. Crucially, despite finding Weller in uncharted waters, it manages to feel effortless. Drifters and Paperchase also reprise the Middle Eastern melodies that were visited on 22 Dreams' opener, Light Nights. It's Woking meets Baghdad but it suffuses the songs with a dream-like quality while somehow staying within the boundaries of taste.
Closer, Be Happy Children, recalls The Jam's Motown-infused 1982 single The Bitterest Pill but thirty years on from his lament at the one that got away, however, we find the father figure (Weller's wife recently gave birth to twins) soothing his children as he's forced to depart, promising that he'll be back as soon as he can. The last thing we hear on the album is a child's voice cooing, "be happy children," and though paper it sounds cloying to say the least, it's hard not to find Weller's contentment infectious as the xylophones shimmer and the strings swell.
While Weller seems very much at ease in his private sphere, he thankfully isn't content to rest on his creative laurels and his ambition is backed up by the material itself. This is a fascinating album which shows that Weller has the nous and skill to evolve and, in doing so, the self-styled 'Changingman' manages to stay fresh, challenging and relevant.
27 March, 2012 - 12:47 — David Zammitt