Music Reviews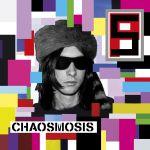 Primal Scream Chaosmosis
(Ignition Records)

Few products of the Manchester rave scene of the late '80s and early '90s have proven to share the longevity of Primal Scream. Where the short-lived ecstasy of the Madchester movement resulted in the rapid rise and fall of groups like the Stone Roses and Happy Mondays, their penchant for repeated sonic reinventions has helped them sustain what is approaching a 30-year career. Of course, Bobby Gillespie and his band didn't start with the Madchester movement but as a C86 indie pop band, making even the music they're chiefly remembered for the result of a drastic change in sound. And just as Screamadelica found the band pivoting into the blend of psychedelia and club music that was taking hold in England, the Scream's new album, Chaosmosis, is their attempt at a contemporary pop album, the kind of album a band makes when they're trying to seem young again.
The problem is, of course, that Primal Scream aren't young, and that strained imitation is rarely a fertile artistic mode. That's not to say that musicians can't make music of vitality late into their careers, or that the band hasn't had a reputable pop sensibility before. But their new sound on Chaosmosis seems almost arbitrary, connected neither to the acid house or hard rock sounds they've drawn on through their career, and with Gillespie channeling neither the blissed-out hippie or the anti-establishment crusader personas he's adopted in the past. It results in what feels like the group's most directionless, least engaging record yet. The songwriting is tighter than usual, as befits a pop record, but there's no edge or weight to these songs, simply a constant sugar-rush feeling that prevents them from settling in.
Primal Scream have never been a band much interested in restraint, and their last record, 2013's More Light, took that disinterest to its musical and lyrical extreme. What resulted was the band's best album since 2000's XTRMNTR, one that updated that album's apocalyptic worldview and all-encompassing sprawl for a changing world. Chaosmosis turns inward, tackling relationships (Carnival of Fools), personal redemption (Where the Light Gets In) and psychological turmoil (Feeling Like A Demon Again), among other things. It's the lack of conviction or insight with which these subjects are addressed, however, that prevents them from being genuinely impactful. Gillespie has never been much of a poet, so his most effective words have always been those that seemed fueled by either ecstasy or political rage. Those weren't subtle either, but at least they were more stirring than "See your face in my head / Empty space in my bed" or "Obsession, possession, ecstatic deception," whatever that means. The shortcomings in his introspection are even worse when paired with the hyperactivity of the music - such direct pop music demands big, direct emotions, not vague expressions of loneliness or dissatisfaction.
Chaosmosis opens with Trippin' on Your Love, a song featuring Haim that seeks to tap into that cross between the acid rock and dance music that made them famous, with an added dash of the Scream's new electropop sensibility. It's another retread of Screamadelica's Movin' On Up, not as obvious as More Light's It's Alright, It's OK, but a retread nonetheless. It's not a good sign, then, that it turns out to be the best song on the album, the only one that really delivers on the blissful high that the music promises. The rest of the record, for all its flash, leaves us in some bland middle ground- lacking the impact and craft of great pop music, but too fleeting in its appeal to work as anything else. Even for the most resilient artists, the well of reinvention eventually runs dry.
18 March, 2016 - 04:57 — Brad Hanford