Music Reviews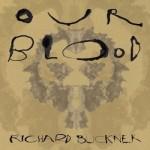 Richard Buckner Our Blood
(Merge)
Buy it from Insound

Searching for the perfect accompaniment to a late-night jaunt through barren dust planes, burning prairie land, and the razed rubble of once-great empires? Look no further than Our Blood. Richard Buckner's newest set of scorched-earth slow jams sounds like it could have done for Cormac McCarthy's The Road what Daft Punk did for Tron: Legacy. There's a remarkable sense of stylistic continuity in the record that identifies Buckner as a good soundtrack candidate, and this readily recognizable quality is partially responsible for the 4-year lacuna of new material in his otherwise prolific career. Between 2006's Meadow and Our Blood, he recorded a soundtrack for a film that, despite viewings at festivals, was never released. Lucky for us, Our Blood channels that frustration (and much more stemming from its trying recording process) into a focused, immersive new offering that finds pleasure in the maturing artist's pained baritone.
Our Blood excels in its cohesiveness and dedication to mood. Buckner's early career focused on acoustic songwriting before migrating to a more avante-garde style, and this album is an effective hybrid. Opener Traitor may be the closest thing to a traditional single, but even this track relies on repetitive riffs rather than chorus-verse structure to hook the listener. In what may have been a thoroughly-disguised blessing, instrumental embellishments from contributing artists never made it onto the final cuts, having been stolen in one of multiple episodes where Buckner had to restart the recording process from scratch. Orchestral minimalism became the only option, and the pleasant result is a sparse sonic landscape depicting the desolate beauty of tension and tumbleweeds.
These same happy accidents, though mostly benign, contribute to Our Blood's flaws. At 9 tracks and a little over 30 minutes, the aural journey arrives at a scenic location only to depart as the impatient family patriarch begrudgingly hastens the visit. We know you've been here before, sir, but can't we stay just a little longer? And then there's the question of what could have been. Make no mistake: there is a nice aesthetic here. What would it sound like, though, if the original ambition were realized? Would it have resulted in a more pronounced projection of his intentions? Maybe the answer is no, but only Richard Buckner and the thief with his thumb drive know for sure.
Ultimately, Our Blood must be graded on what it is (rather than what it could have been), and it is quite good. There's nothing instantly unforgettable, no unparalleled technical mastery or feats of fleet fingers, but that's ok. The world needs sonic storytellers like Richard Buckner, people capable of whisking us away to far-off emotional destinations through careful control of tone and timbre. Perhaps, barring future mishaps, his next full-length will cast favorable light on what this release could have been. That, leaving all else equal, would be a truly exceptional follow-up.
29 August, 2011 - 05:05 — Benjamin Jones