Music Reviews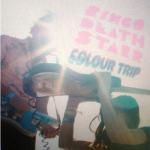 Ringo Deathstarr Colour Trip
(Club AC30)
Buy it from Insound

Glitchy shoegaze, noisy dream pop — call this what you will, but Ringo Deathstarr are reveling in the intricacies of overly loud guitars played with the reverb turned up (several times over, too.) Colour Trip is a romp through that shoegaze playground; it's a veritable cavalcade of that early '90s sound compressed into one efficient, though not glamorous, album.
It's certainly a bit derivative — it wouldn't quite sound out of place in the early '90s alongside 'classic' shoegazers — but that doesn't keep the band from having a good romp with the material. Does it make much of a difference? Colour Trip sounds almost a shoegazing revue, and that will only appeal to some.
Ringo Deathstarr haven't really solidified a direction to take here, and the result is something scattershot. Sure, Colour Trip is an absolute blast of a listen, and it's actually seemingly solid as a unit, but each song sounds an idea the band's not fleshed out with finality. What we have here, as a result, is an album that sounds damn good, but it never makes it as something much more than that. It's always veering toward the edge of irrelevancy — the band, to my mind, does very well to avoid that.
Yes, each song, I'd say, is really very good — but as an album, it's a bit of a letdown. What we're given is effective dream pop and shoegaze, but we're left wondering whether it all fits together — and if it does fit together in the exceedingly obvious direction the band took, I'm not sure we need this overview of the involved genres.
Something more, though, wouldn't go amiss. If more is to come, it should bring with it a great deal of anticipation — Colour Trip has a great deal of promise about it, and that, it seems, is hard to miss, even through all the noise.
19 May, 2011 - 08:32 — Matt Montgomery