Music Reviews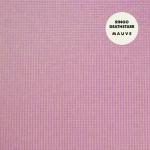 Ringo Deathstarr Mauve
(Sonic Unyon)
Buy it from Insound

On the surface, a band like Ringo Deathstarr almost seems like they're going out of their way to not be taken seriously. For one thing, they named their band "Ringo Deathstarr." For another, the group displays their shoegaze/noise pop influences so blatantly that it's surprising nobody's filed a lawsuit yet. It feels a bit futile these days to slam a band for sounding like My Bloody Valentine or The Jesus And Mary Chain (as nearly every shoegaze band has faced that comparison), but Ringo Deathstarr really make it tough to ignore: The guitars are as warped and abrasive as possible, and singers Elliott Frazier and Alex Gehring do an uncanny impression of Jim Reid and Bilinda Butcher (respectively). However, the Austin, TX trio defies these limitations through the use of a secret weapon not entirely associated with their elders: Urgency.
If Ringo Deathstarr is a shoegaze band, then they're shoegaze in full-on attack mode. Though they bear many of the genres hallmarks, they're bracing punk rock sense of immediacy and uncanny ear for pop hooks help the group stand out as an infectious and exhilarating counterpoint to many of their peers. Last year's Colour Trip, a collection of highly enjoyable two to three minute noise pop jams, already did a fine job of strongly cementing the group's aesthetic. However, it left the question of how the group would be able to follow it without sounding redundant, and while Mauve, the Ringo Deathstarr's latest album, isn't a drastic change from their previous work in any way, it manages to propel the groups sound even further in the chaotic abyss. Bigger, louder, dreamier, and even more furious, Mauve see's the group further refining their already well-defined sound to create their strongest album yet.
As far as aptly named song titles go, it's safe to say that openers Rip and Burn offer a good approximation as to how Mauve chooses to kick off. Both tracks just about obliterate everything in their path in less than three minutes apiece, with harrowing, overdriven riffs and ethereal vocals blasting forward like a giant sonic boom. This approach seems to characterize much of Mauve, as the album proves that Ringo Deathstarr work best when operating with a blitzkrieg offense. Tracks like Slack, Waste, and Do You Wanna snarl and bite as if they were My Bloody Valentine songs infected with rabies, and implement a level of punk attitude that would cause more people to form mosh pits than stare at their shoes. However, no matter how grotesquely chaotic many of these songs may sound, the songs infectious hooks always manage to burst through the walls of guitar muck, bringing a defined structure to even to the noisiest tracks.
Even though these shoegaze-pop lightning strikes give Mauve plenty of vitality, this approach isn't necessarily new to the group, as pretty much all of their past releases were fundamentally built on this aesthetic. However, Mauve proves to take things further by expanding the groups sound in a number of ways, even if they're much more subtle than direct. For instance, the groups utilization of loud, fuzzed out riffs is commonplace in their discography, but they never seemed as totally blown out as they do on this album. On songs like Burn and Girls We Know, the guitars sound almost amorphous and formless this time around, as if the group took floating waves of caterwauling guitar bile and stitched them into definable riffs. This focus on achieving the most downright gruesome guitar sounds possible effectively turns even the catchiest songs on the album into something much darker.
A few songs on the album even manage to take the groups signature sound through some pretty interesting turns this time around, resulting in some tracks that really manage to stand out amongst the rest of their work. The song Drag, for instance, doesn't sound very atypical of Ringo Deathstarr at first, with twinkling guitar lines and Alex Gehring's ultra-dreamy vocals leading off the track. However, the song takes a dark turn a few seconds in, as the mood begins to grow more unsettling as a nervous bass line and noisy guitar undercurrents are introduced. While noisy guitar feedback is typically at the forefront of most Ringo Deathstarr tracks, it's near subliminal implementation on this track is certainly a welcomed variation. Then there's Brightest Star, the albums near-six minute centerpiece that stands out as a major turn for the band. Though still shoegaze by all means (and probably the shoegaziest track Ringo Deathstarr has ever produced), the song never ignites or pops in the same way as most other tracks on the album do, and instead chooses to float in mid-air as a moody, dreamy soundscape that brings out the most ethereal qualities of the group and leave them completely out in the open. The track, despite being pretty by-the-books for the genre, is ultimately very effective and acts as a wonderful buffer zone to recover from the noisy onslaught surrounding it.
It would certainly be easy to just refer to Ringo Deathstarr as a My Bloody Valentine rip off and move on to the next noise pop band, but in the end, this is just an excuse not to closely examine the finer points of the group's sound to find what makes them unique. Shoegaze and noise pop bands have been faced with this dilemma ever since Loveless was released more than 20 years ago, and while there have been many bands since that have failed to bring any sort of zest, it would feel wrong to sell Ringo Deathstarr's ultra-kinetic take on the genre short because their vocals and choice of guitar tone sound awfully close to the aforementioned classic. No one is arguing that Ringo Deathstarr are true innovators or pioneers in any sense, but with strong, fully realized statements such as Mauve, Ringo Deathstarr are making a strong case for being one of the most vital bands in shoegaze today.
2 October, 2012 - 09:08 — Peter Quinton