Music Reviews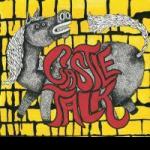 Screaming Females Castle Talk
(Don Giovanni)
Buy it from Insound

A righteous goofiness pervades the latest release from Screaming Females, NJ's seminal DIY shredders. The band constantly seems to be tempering their ferocity with some blistering guitar solo or off-kilter vocal phrase, which by the way totally RIPS, thank you very much. Listening to them gives you the thrill of not knowing what they'll do next, or how they'll pull it off. How they manage to blend Neil Young solos (the band regularly covers Cortez the Killer) with lo-fi, hardcore, indie, and New Wave influences so effortlessly well is beyond the grasp of mere mortals.
These incongruous influences just might be what gives the band its verve. Guitarist and singer Marissa Paternoster seems to thrive off the conflict between her voice and her guitar, herself and the band, and the band vs. everyone else. It's this sense of jittery piss and vinegar that gives the band so much power, injecting their otherwise standard song structures with a rage that simultaneously punctuates and brutalizes the various members' very normalness. Case in point is on the song Normal, where, over heavily-distorted barre chords, Paternoster sings "I'm joyfully employed and normal." The fact that the lyrics and the sound don't match up only adds to the appeal.
Taken as a whole, Castle Talk is leaps and bounds ahead of any other Screaming Females album. Take the album track by track, however, and you'll notice the very few tracks that just fall flat on their face. The absolute worst moment on this release has to be Deluxe, which finds the band verging off into the unfamiliar territory of soft-rock. It sounds a lot like Melissa Etheridge if she decided to go through a late-life punk phase. But then the band follows with the album closer Ghost Talk, which totally blows away 90% of the music being released today. It's got a nice Orange Juice meets Metallica feel to it, which weirdly works.
And that ending track sums up what's so great about Screaming Females. They give you metal you can dance to, punk you can rock out to, and DIY ethics you can respect. A winning combination from a hard-scrabble band.
28 November, 2010 - 15:23 — Preston Bernstein