Music Reviews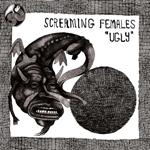 Screaming Females Ugly
(Don Giovanni)
Buy it from Insound

I cannot think of an album title that, in combination with the band's name, describes the sound of the album as well as Screaming Females' Ugly does. Save for the false plurality (Vocalist/guitarist Marissa Paternoster is the only female in the band), the idea of a harsh, loud, and violent nature of the album is reflected perfectly. Taking the remarkable guitar tones of Wild Flag but trading in the lighter lyrics for all of Titus Andronicus' spite, Ugly is easily one of the best guitar albums in the past several years. And with wicked vocal spit, incessant drumming, and dark, growling bass, it is also a favorite for punk album of the year.
Clocking in around 53 minutes in 14 songs, Ugly is expansive and wild, but also united and diverse. It would be easy for Paternoster to recycle the same kinds of riffs on every song—skip to anywhere on any song and if you hear a riff or solo, it's a great one—but she relentlessly explores palm mutes, scratches, shredding, and a plethora of melodies that never sound alike. Her ability to seamlessly shift from riffs and solos, long or short, erratic or controlled, alternately calls to mind J Mascis, Annie Clark, Patrick Stickles. Paternoster always knows exactly what she wants, be it the glorious scratches on the end of Red Hand, the distorted, rhythmic pulses on Expire that make way for pointed, noise-tainted melody, or the psychedelic soloing on the epic Doom 84. Bassist King Mike can bring a much needed calm with his slower, more controlled style on Crow's Nest while still showing he is capable of his own killer melodies on the menacing, dirty Red Hand and of keeping up with Paternoster throughout Tell Me No or with the climactic crescendo of High. Drummer Jarrett Dougherty grabs the intro of High, joins right along Mike on Red Hand, and multiplies the energy on Paternoster's guitar on the rousing opener It All Means Nothing. Through all the relentless riffage and showcased guitar work, Screaming Females know that calculating when to take the spotlight as well as when to share it is still often times the best approach. Pasternoter has her moments, such as Rotten Apple, where she sings a call-and-response with her guitar, but this is a true group effort. They constantly leave the impression that they are more than just a power trio, and perhaps Steve Albini, who produced Screaming Females for the first time, learned the same lessons as the three members did and opted to perfect what was already there instead of bringing his trademark sound to the group.
Even more impressive, Screaming Females take this approach through a variety of styles. They give us tastes of a ballad in the bridge of Leave It All Up To Me that culminate with the short, endlessly sweet closer It's Nice. They play with psychedelia in Doom 84, putting it in conversation with noise for almost eight minutes. But regardless of the genre, the trio do it all while letting their energy and expression do the talking, staying as true to the punk ethos as most of these titles suggest. Paternoster targets her anger at herself, others, the world, and emotion, always taking a slightly different approach, swapping bitterness for self-loathing here and hatred for doubt there, and the band is quick to follow in their tone and speed. Screaming Females is sure that variety is the spice of life but also aware that an album usually needs unifying traits. There is not a weak track here, and there are also not any two that could be mistaken for each other.
Paternoster's nihilistic approach pervades the album, and while she has a few lyrical nuggets, her nihilism is never quite as clear as perhaps it should be; she always prefers to let her guitar and nasty delivery do most of the talking. But when you can go from the dark, driving Rotten Apple and make your way to the ridiculously fun and comparatively light Help Me, where she has seen God, and is trapped, but needs a bit of help from someone who "makes it look easy to be strong" and has faith in her, even with her self-doubting attitude. She confesses that her partner "shouldn't let me drive," even if they do, maybe, if an album so nihilist would permit it, love each other. She may seem to hit a dead-end after this for a couple of songs, but by the record's end there is resolve and a certain level of acceptance brought on partially by swapping distortion for a string section, acoustic guitar, and honest and emotive vocal delivery, but the real punch is the touching lyrics. It is only in the last couple minutes, shamefully late, that Paternoster realizes that she is quite a strong lyricist. But Ugly shows a hint of fixing its biggest flaw, so it could mean that, as hard as it is to believe, the best Screaming Females record still has not arrived.
Ultimately, what Ugly lacks in innovation is more than made up for in unique vocals and excellent music that, along with Open Your Heart from the antagonistically named The Men, shows that the basic rock and roll formula is boundless when done correctly and that influences can be shamelessly pulled but endlessly reinvigorated when in the right hands. Ugly proves great punk doesn't necessarily need the ambition of Zen Arcade or The Monitor or David Comes To Life as long as it has the same purpose and great songwriting.
4 April, 2012 - 12:04 — Forrest Cardamenis