Music Reviews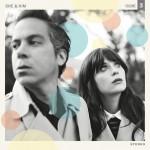 She & Him Volume 3
(Merge Records)
Buy it from Insound

While some acts thrive on reinvention and experimentation, other groups keep their general sound the same, focusing on strong songwriting and bits of variation to keep each album going strong. This strategy has kept the duo of Zooey Deschanel and M. Ward successful through their first two albums and proves to be just as effective for their third.
If you haven't listened to She & Him, their sound is a throwback to the days of the 1950s and early 1960s, complete with vocal harmonies, classic guitar work and songs about love. On Volume 3, the song remains the same, but this team is talented enough to keep those interested coming back for more.
From the start, this is a far more upbeat affair than Volume 2 was. I've Got Your Number Son kicks things off with Jerry Lee Lewis style keyboards, Deschanel's rich vocals and driving drumming. From there, Never Wanted Your Love bursts forward with stirring strings taking center stage and ascending higher and higher towards the end as the chorus is repeated.
While many of the buoyant tracks have similar touches, there is enough distinction to make many songs stand out. The ukulele in Turn To White, when combined with the low-key drumplay and the occasional sweep of soundtrack strings, creates a stripped down approach that is rarely-explored territory. The jazzy/early 60s TV show piano makes Somebody Sweet To Talk To an instant standout. Snow Queen has a top-notch sax solo and Together combines the 50's with the 70's through a funky, scratching guitar and brass section.
One noticeable thing that has changed between the release of Volume 2 and Volume 3 is that Deschanel got divorced from Ben Gibbard, a process that was finalized just last December. Although it's never directly discussed, that part of her life comes through on some of the more melancholy tracks, such as London. The slow shuffle of keys fit the setting she describes about the English city. Lines like "I can't shake this sadness/Because it's never that small/But we're all sad together, so I'm not alone at all" create a sense of Deschanel walking lost in thought.
I Could've Been Your Girl is also all about regret, despite the cheerful music and vocals on the track. It's only when the album closes with the instrumental reprise that these emotions come through. Match lyrics such as "Undone, I guess I haven't won" and "If I could do it over, I'd send you the pillow that I cry on." Rather than the initial song's playful headshake that someone missed their chance, the reprise is full of hurt feelings that things fell apart.
The third chapter in She & Him's discography won't convert those who dislike the genre and it won't alienate fans of it either. Instead, it is another part in a continued series about love and loss, happiness and regret, vocal harmonies and twangy guitar. Given the consistency with their previous records, it is clear why they called this collection Volume 3.
26 May, 2013 - 04:29 — Joe Marvilli