Music Reviews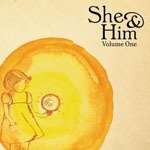 She & Him Volume One
(Merge)
Buy it from Insound

When I first heard about the pairing of M. Ward and Zooey Deschanel my ears were raised, but with a variable amount of skepticism. Deschanel, after all, is every hipster's "it girl" of choice, but can she sing? Are her songs even any good? The doubts began to mount. M. Ward can always be relied upon to bring authenticity to his lo-fi folk music, making it devoid of any discernable timeframe, but will he change his methods to accommodate the young star? Rest assured, the unlikely pairing actually makes perfect sense on record. She & Him resemble one of those couples you route for, charming and pure of heart. And the most exciting thing about this album: It's titled Volume One.
The bond these two individuals share obviously forged itself over a love of classic pop and country sounds, Beach-Boys harmonies and Phil Spector-esque girl groups. This is pretty much what I had hoped Jenny Lewis' country-tinged solo album might be like. Maybe she too should have enlisted Ward as collaborator/producer. Warm and elegant, careful but not calculated, Ward's production stands perfectly alongside his solo releases in terms of sound, style and impact.
All but three of the songs here are Zooey's, and Ward allows this to be known. Deschanel's crisp, down-home voice sits in the center of each track as Ward takes a back seat, likely a tattered rocker on the front porch. Don't expect to hear his presence vocally. Ward's prints are present on every track of this excellent alt-country collaboration, but he lets the songs breathe through Zooey. Even his signature guitar parts are refined and never showy, appearing most observably on the upbeat Why Do You Let Me Stay Here? Otherwise it's mostly driven by Zooey's piano and some sweeping string arrangements.
Sweet Darling is perhaps the most obvious hat-tip towards 60's girl groups, complete with a few castanets and endlessly layered vocals. Change is Hard is a tender ballad and rounds out the album's initial one-four punch of un-skipable tracks. If there are any complaints here, it's that the album slows down significantly during the second half with covers of The Beatles' I Should Have Known Better and Smokey Robinson's You Really Got a Hold on Me. These are passable covers, but ultimately unnecessary since Deschanel's material is strong enough to fill out the album. It all ends with an appropriately sleepy lo-fi version of Swing Low, Sweet Chariot.
5 April, 2008 - 18:58 — Brett Oronzio