Music Reviews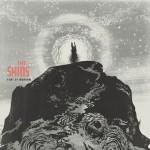 The Shins Port of Morrow
(Aural Apothecary)
Buy it from Insound

It has been just over five years since The Shins last released an album. Coming after a similarly lengthy hiatus, Wincing The Night Away was the last record to feature keyboard player Marty Crandall and drummer Jesse Sandoval, a pair who had been members of the project since its predecessor, Flake Music, was founded in 1992. For many bands this would mark a watershed, perhaps result in a solo project for the front man. For The Shins, though, these twin departures merely served to underline James Mercer's position as the sole member of a band that never really was a band in the first place.
The Shins were catapulted from indie anonymity to the mainstream the moment Natalie Portman handed her headphones to Zach Braff in Garden State and declared that New Slang would "change your life." Nobody felt those words more keenly than Mercer himself, and the Albuquerque trio's path was propelled to another plane in that single celluloid gesture. But beneath the awkward, twee chic that made The Shins such an appealing prospect exist decidedly adult concerns; Sandoval has dismissed Mercer's attempt to soothe relations by framing the lineup change as a mutual "aesthetic decision," confirming that he was, in fact, sacked. Make no mistake; for all The Shins' quaint eccentricities this is a serious artistic pursuit for James Mercer.
This period of attrition has led to anything but a paring down, however, and Mercer's supporting cast is much wider this time around, with the front man reinforcing his position as an auteur in the Jeff Mangum and Conor Oberst vein. Drumming duties, for example, are divvied up between Joe Plummer (Modest Mouse), Janet Weiss (Sleater-Kinney, The Jicks) and Mercer himself. His decision to recruit producer Greg Kurstin – of Kelly Clarkson and Britney Spears fame, no less – is nothing less than inspired, breathing life into the songs and imbuing them with a fuller, warmer sound that gleams with impressively high fidelity.
In spite of all the changes, however, the album begins on well-trodden Shins terrain. Lead single, Simple Song, could sneak unnoticed into Chutes Too Narrow, while Bait And Switch is a slightly better-presented, more upbeat sister of Mine's Not A High Horse. September exists somewhere between Young Pilgrims and New Slang, while the relentless sunshine of No Way Down's Nineties pop bounce becomes nauseatingly saccharine with continued listening.
All in all, the structures and dynamics on Port of Morrow come extremely close to previous albums and its narrow scope betrays Mercer's claim that a clear-out was required in order to realise his vision. While there are some welcome flourishes in terms of the production, the album comprises considerably less experimentation than Wincing The Night Away, an album which touched upon R 'n' B and synth-pop in a comparatively eclectic 40 minutes. It's more intimate, granted, but it's also a lot less interesting.
When the courage to break new ground does come, the experience is exponentially more worthwhile. Fall of '82 touches on Seventies rock, while the psychedelia of the title track (and closer) is all the more rewarding for its innovation. Mercer's falsetto on the latter is a revelation, begging the question as to why we haven't heard it before.
Lyrically, most of the songs meander down the hallway of stock rock tropes, and Mercer relies upon that unfortunate crutch, the nameless 'you', all too heavily. His metaphors are also jarringly cringeworthy at times. "Make me a drink strong enough to wash away the dishwater world they said was lemonade," for example, on No Way Down, sends a shiver down the spine for all the wrong reasons.
Port of Morrow's biggest flaw, however, is Mercer's penchant for proffering advice rather than dedicating himself to any kind of studied introspection. Positioning himself as the sage, his lyric sheets are strewn with you, your, you're. His words are consistently either accusatory or advisory and it all builds to give the impression that he has become quite smug. Indeed, his pleas to be let in, which begin in Simple Song and culminate in It's Only Life, start out as tenderly beseeching – "I've been down the very road you're walking now / It doesn't have to be so dark and lonesome" – but turn out to be little more than a conceited exercise in self-validation as he reminds his apparently vulnerable subject of a time "back when you thought I'd never get this far".
While there's no doubt that Port of Morrow is well crafted, then, it fails because it is ultimately unmoving, and what Mercer has gained in style and execution is overshadowed by the album's lack of either invention or sincerity. A solid album on its own, it all seems a bit pointless and irrelevant in the context of The Shins oeuvre and it's sad to see Mercer choose stasis over growth. It's easy to see this being lauded over its predecessor but don't confuse Mercer's retreat into his comfort zone with a return to form.
22 March, 2012 - 10:43 — David Zammitt