Music Reviews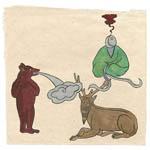 Six Organs of Admittance Asleep on the Floodplain
(Drag City)

Ben Chasny is a fairly established presence at this point, (or at least his Six Organs of Admittance moniker seems to be), so long running diatribes criticizing the mostly monotonous swill that sadly represents a good portion of the folk genre seems unnecessary.
But, I'll dig in, anyway.
Folk music sounds very content to be one singular tone with one very generic vocal, resting on a veritable library of Thoreau clichés with mandatorily sprinkled Dylan-isms added for some edge. To me, it's like listening to a sensitive, albeit charismatic, glob of bile being whisperingly up-chucked then kitten-licked off the floor with delicacy (because, there are girls listening) then quietly re-chewed, re-gurge, repeat.
In Light of the Light, Chasny states, "Everything has perfection," which is both a diplomatic and idealistic observation delivered with such sincerity, I almost feel guilty being this jaded about folk music. But, I think I deserve some benefit of the doubt. After all, Chasny's Six Organs of Admittance doesn't rely on the model of misunderstood "musician/poet" and his latest album, Asleep on the Floodplain, is more than an acoustic showcase. Granted, the album's first track, Above a Desert I've Never Seen, sets somewhat of a precedent, presenting enough acoustic dialogue and intricacy to fill eighty Wavves albums. There's a good amount to live up to after a little more than five minutes, and as notes continue to either alight upon sonic undulating fields (Brilliant Blue Sea Between Us) or strum themselves into quick-witted acoustic monologues (Poppies), Chasny evades being confined to his genre, thinking up ways to expand folk music's concept into something deeper than the tired singer/songwriter motif. The purpose of "new/freak folk."
Paradoxical whimsy like Hold But Let Go sort of snaps its fingers at you, aware that it follows the strain and ghostly pulsations of Brilliant Blue Sea Between Us and the very quick Saint of Fishermen. Though devoted to the guitar, Asleep on the Floodplain enjoys stretching out into distant winds or muted machinery. River of My Youth fades in with plucked strings and enveloping factorial churn before layering sung melody and overlapping acoustic guitar notes. S/word and Leviathan picks at a group of cycled notes that run consistent loops while voices and swells of sound slowly appear underneath. At some point, your ears become aware of the build-up, especially when the voices appear, ("It's not a matter of retribution") and then the smoldering electric guitar ascends and descends aimlessly, the coaxed notes alone and collapsing from lack of support.
A New Name on an Old Cement Bridge stutters, daring Chasny to miss his successive chords like a Thelonious Monk composition, heavy and almost erratic with his guitar pick. For Dawn, Running Home, (Is that an accordian?), Chasny's layering fades long enough to hear the distant echoes of a neighborhood. The effect is striking, the song's words delivered like fragmented apologies: Warm, expressive — unintentionally jabbing cliché by exemplifying dignified sensitivity.
3 March, 2011 - 05:23 — Sean Caldwell