Music Reviews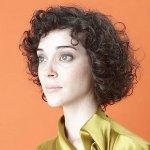 St. Vincent Actor
(4AD)

Annie Clark, her of the geographic musical alias St. Vincent, is either a golden-hearted black widow or the girl next door with a suppressed psychotic streak. Harsh descriptors, perhaps, but the only logical ones after being simultaneously swept away and then mugged by her sophomore effort Actor. One would hardly expect the phrase "Technicolor Disney nightmare" to become an overused idiom anytime soon, but it's a good bet you'll see some iteration of it, written or otherwise, in just about every reference to this album. Equipped with an unyielding sinister side rivaling that of a Tool production, Actor is a delicate animal with a black heart, where every perky rainbow casts an equally-powerful shadow, and a thinly-veiled dementia oozes beneath its fair skin. Whether switching between reflections of Clark's own intimate hell or else her outward visions of a larger nonsensical world, the result is absolutely mad and absolutely gorgeous.
Initially, that alluring combination of dark imagery and whimsical aura seems to suggest that Actor is some sort of modern, musical equivalent of Through the Looking Glass, with the artist herself playing a hybrid narrative role of the helpless Alice and the snarky Cheshire Cat. With each dose of whimsy comes an equal fistful of bruising spite and absolute horror, as Actor often covers the beat of its pulsing innards with sparkling, squeaking accompaniments that somehow manage to frighten and enchant simultaneously. An eerie spiderweb of sound, for sure, and one that Clark crafts masterfully.
Yet she is not wholly the star of her own music, as Actor sees the Oklahoma-born songstress playing both a set piece-hidden director and charismatic tour guide to her own creation. Picking up the Disney-gone-hellish metaphor, at times Clark is Mary Poppins - friendly, pretty, engaging, relatable, and yet somehow unnaturally monstrous. In other moments she is the recording equivalent of Guillermo del Toro, wielding childish glee and morose imagery to the effect of great art. Thus in two albums' time she has built a striking persona of dangerous beauty. Indeed, when a soft touch is needed, Actor often turns to its woodwind ensemble and cloned Clark chorale (excuse the alliteration) to soothe the chaos (though even those two elements don't mind getting a bit devilish before the end.)
Songs themselves are like exhibits in the infamous Mütter Museum, beautiful and unique on account of their morbid nature. The Strangers is as disturbing and acidic as the recent similarly-titled film, skipping and hopping to a demonic rabbit gait while the deceptively-calm Clark chants "Paint the black hole blacker/paint the black hole blacker" until the whole thing melts down as freakishly as a Francis Bacon
portrait. Likewise, The Neighbors takes sing-along whimsy to new heights - alternating between plush gentility and razor-edged explosions, the track becomes another undulating hill in Actor's impressionist landscape. And though the mournful opening trip of The Party is seemingly out of place on the album's hallucinatory agenda, it concludes with the kind of desperate ecstasy listeners will come to expect
from this wonderfully beastly record.
In the end, Actor is all about juxtaposition, overlaying cleanliness with mud, fantasy with nightmares, and innocence with evil in an effort to see what strange portrait will emerge. Yet even as Clark has cast off much of her debut's nerdy-cute quirkiness for talons, some is retained: the poison is always slightly sweet, and the strange odors are yet mixed with a heady perfume. Quite eponymously, the album is a grand performance, and one whose stagecraft is the sole work of a brilliant ringmaster in Clark.
28 April, 2009 - 09:24 — Kevin Liedel