Music Reviews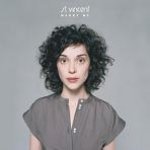 St. Vincent Marry Me
(Beggars Banquet)

Former touring muse to Sufjan as well as The Polyphonic Spree, St. Vincent (née Annie Clark) seems poised for throwaway, already-heard status at first glance. Her voice exudes a rather immediate chilly French café vibe, complete with that irreplaceable cosmo smoothness. Her lyrics have a penchant for veering dangerously close to trite truisms-just see All My Stars Aligned for "What was your question?/Love is the answer." Even the cover art, despite her semi-crazy black mane, is chilly and sleek, evoking a palpable sense of distance through her puzzled gaze. Raised eyebrows above big, innocent eyes. (Natalie Imbruglia's Left of the Middle, anyone?)
She may be a quirky singer-songwriter-and aren't those a dime a dozen these VH1 days-but on her debut disc Marry Me, Clark gives her cute intricacies considerable substance and meaning, a crucial distinguishing factor. The record's hers entirely; every melody and every effect is composed solely by Clark, naturally an impressive feat. Absolute control is vital for these songs to succeed, and Clark juggles the responsibility easily, each track feeling complete and cohesively arranged, even considering the singular creative outlet.
There's no doubt Clark has the mark of a storyteller. Marry Me's abound with storyteller insignia-oblique narratives fleshed out by careful atmospherics, Reader's Theatre-esque repetition of certain phrases, a sometimes exhausting dramatic flare. Each of the eleven tracks inhabit worlds all their own, and the listener can only listen and observe the meticulously arranged songs as they float through various stylistic threads. To breathe life into the songs, Clark wilfully employs additional theatrics and specific flourishes to really hit the point home: the opening "bum-bum" carol of the superbly titled Jesus Saves, I Spend, the low-key bouncy plucking of Human Racing, and the unforgettably creepy chorus that underlines opener Now Now, which plays like a tamer A Sunny Day in Glasgow. Simultaneously romantically wistful and peculiar, Marry Me strikes a balance between the two extreme angles.
As with most any debut, Marry Me is imperfect and not without clear misfires, but with Clark's unwavering confidence, the whole record seems clearly aware of this, and these failures still serve a purpose. Apocalypse Song serves as the climax of weird, composed of fragmented lyrics and a continuously ominous build, certainly the most uncomfortable song on the disc. However, Apocalypse also provides the necessary late-album palette cleanser, preparing the listener for the stunning, smoky piano-jazz denouement. Clark's weighty ambition endows each of the songs with an individual sense of purpose; each will work for a specific mood.
More often than not, though, Clark strikes gold with songs like Now Now, the title track, a candid declaration of longing, and album highlight Paris is Burning, where her lyricisms reach their most potent: "sticks and stones have made me smarter/it's words that cut me under my armour they say." On Marry Me, it's songs like this that prove Clark is a force to be reckoned with, easily out of her own league. She's earnest and careful, her songs (really, her songs) gorgeous and solid; there's definitely room for growth and development, but this is more than adequate on a debut.
27 July, 2007 - 01:25 — Brendan Phillips