Music Reviews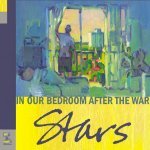 Stars In Our Bedroom After The War
(Arts & Crafts)
Buy it from Insound

The members of Stars, after giving politics a nice dosage of sexually-charged underlining, have grown up. Where Set Yourself on Fire played with the naivety of its album title (flirting with curious sexuality in tracks like The First Five Times, a slew of innocence drawn out with a lack of elegance in the death of The Calendar Girl), In Our Bedroom After The War finds its characters so down-to-earth in transitional, broken relationships they're knee deep in dirt, gossip crowding the corners like cobwebs.
It's almost enough to get lost in: In the promising build up of aptly titled The Beginning After the End, the song calls forth a stab of cocky hope, simple beats set to simple synthesizers. It's a slower, more careful Stars, but a sound bite proclaiming the album's title fits snugly into its niche. But what follows varies wildly from sweet, simplistic ballads to ill-advised marks against substance over style; when Bedroom sticks close to heart and ear, it comes off with unabashed ease when everything else is simply fluff. The stirring, laser-lite The Night Starts Here shuns grandeur by amplifying reverb sporadically to the R&B inspired drum kit. Vocalists Torquil Campbell and Amy Millian play off each other here, throwing witticisms back and forth like they're so accustomed to. Passages can be given to each for stretches of time before switching roles or flow like a conversation.
Bedroom is claustrophobic and restrained, mostly letting Campbell and Millian's vocals waltz all over their backing music; this style may call for it (the piano ballad of Barricade, almost completely devoid of electronics, lets Campbell alone to quiver and shake where he seemed so apathetic before), but otherwise they are manhandled by production (the vocal driven Window Bird, Millian trying to pass her voice by an octave too high, is aided by a savoury chorus and the addition of Campbell). Or, almost like surplus, the album applies it too thick: In the Sufjan-cum-Under The Influence of Giants The Ghost of Genova Heights, verses and choruses swing wildly around through techno-lite pop and eloquent, string-induced passages.
There are moments of pop ingenuity, like the culturally influenced Bitches in Tokyo (take a guess) that thrives on its fuzzy wary chorus, keeping its guitars eclectic and flavoured with schmaltzy electronica. The sauntering road trip quality to Midnight Coward gets the ball rolling into the middle section, finding a place as an instant favourite and sliding easily between girl/guy dynamics before sweeping into a quiet, affected moment ("'What is your middle name-?' 'How do you play the game-?' 'I'll be the first to leave'") that lifts the rug off emotions swept under it, like the internet dating Personal that echoes pain in its piano before the characters even disappoint each other. There's an apathetic lyricism to Millian's performance approach in Today Will Be Better, I Swear! that doesn't cohere with what she's singing, Campbell's heartfelt performance a comfortable counterbalance.
So Bedroom is an album of dynamics and contrasts with its biggest asset its heart; chipped, cracked or broken, naivety is replaced by genuine emotion. Sometimes it's boring and sometimes it's endearing. It plays like the Great Depression, made up of bitter pillow talk, but its heart-caught-in-a-throat storytelling, as uninspired as it initially seems, leaves a lasting impression. Still, while relevant, even a little poignant, it is stunted by an aesthetic exterior slow to get into but harder to let go. At the end of the day, Bedroom just comes off with a rich subtext and meaning. With longer lasting appeal, this cold war might be raging long after the fire has burned out.
26 September, 2007 - 22:13 — Lewis Parry