Music Reviews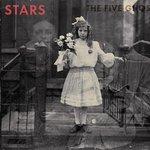 Stars The Five Ghosts
(Vagrant Records/Soft Revolution)

In the last decade, there haven't been many bands pushing forward different forms of pop as a sophisticated art form so seamlessly. Gradually reinventing themselves, but in very subtle ways, Stars have gone from impassioned indie-darlings to a thinking man's musical equivalent of a Harlequin novel, unabashed about sugarcoating emotional impulses that mostly ring true to whomever is willing to accept the dramatics of love.
Steadily overgrowing their youthful rebellion, the members of the Canadian pop outfit are now wary of the idea of mortality as a transition amid the grand scheme of things; eternity, if you will. In haunting track Dead Hearts, main songwriters Torquil Campbell and Amy Millan once again duet with theatrical poignancy amidst an orchestral background that washes the stage scenery. Torquil's breath of counselled tranquility brings warmth to Millan's melancholic timbre, stating how, even when in presence, there are dead hearts everywhere. Voyeuristic I Died So I Can Haunt You foretells about love as an impossible approximation, but this time, the deceased feels closeness even when not present in flesh and blood. Both serve as a contrast between grandiosely striking and bouncily chipper, but are nonetheless obviously sad in their delivery.
As expected, this is how Stars has always embraced the fact that, even if love is doomed to be a transition, it is eternal among us all. This time around, the lyrical content is downgraded by a tiny notch, proving to be simplified and less confessional, albeit a bit more abstract. In Fixed, Millan accepts that what you want/you are/you always were/and what you want/you are/you always were, coming out as a symbolic proverb that is meant to clarify her evident indecision to answer whether she should stay or go, finalizing with the conclusion that a killer killing fades. Seemingly so, this direct approach doesn't make it more compelling, but the play on words works when there isn't a need to come out as showy for the sake of expressing extraneous imagery.
Beneath the as-expected saccharine rush, The Five Ghosts sounds as conceptually divisive as it's conflicted subject matter. A constant bout of dreamy synth lines underlines the meat of the production, managing to maintain an atmospheric feel that seesaws the same way the Cocteau Twins meshed swooping vocals with emotional clarity. In He Dreams He's Awake, they opt to achieve a larger-than-life, pompous sound by integrating atmospheric tonality instead of achieving it through lyrical resonance. It would be a revelation if it didn't resemble the pounding, robotic drums and hypnotically minimal yet at times vacuous textures that Anthony Gonzales has already threaded as M83. It soothes them better in chilled posh track The Last Song Ever Written, where the processed bass lines and sonic textures emphasize Amy Millan's vocal whimper.
However, The Five Ghosts sounds so processed at times, you'd think it was recorded in an Export Sodas can filled with tin foil. The inconsistent flutter of noise that bouncy Metric-inspired How Much More employs distracts when it should be as uncomplicated as the giddy pop of past tracks Ageless Beauty and Bitches in Tokyo – not to mention, just plain fun. Techno-fused We Don't Want your Body and The Passenger flaunt repetitive choruses and slick electronic grooves that really don't display much distinctiveness and make one wonder where the shimmering orchestral touches that Dead Hearts executed early on went away to. And even if Changes features a cheesy drum machine, it does boast a charming Brill-Building style pop arrangement and brings back a more soulful Millan, serving as a welcome respite after all the jagged, electronic randomizing.
Despite these unpredictable choices, Winter Bones' soothing guitar delays and melodic keyboard touches wash away the fuzz, like witnessing the calm after the storm. It's the ideal closure to establish Stars' newfound sense of modesty. The Five Ghosts chooses to communicate in a simpler, terser manner, which counteracts their evident vigor to test out miscellaneous musical approaches. By switching their objective, Stars' fifth effort has become their true reversal of fortune.
4 July, 2010 - 22:01 — Juan Edgardo Rodriguez