Music Reviews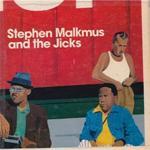 Stephen Malkmus and the Jicks Mirror Traffic
(Matador)
Buy it from Insound

Alt-rock lifer Stephen Malkmus' new album Mirror Traffic was recorded at Sunset Sound in Hollywood with the Jicks and was already in the can prior to the triumphant Pavement reunion world tour of 2010. Having spent a solo career eagerly trying to put artistic space between him and his former group, Malkmus has cranked out five critically acclaimed yet modest-selling albums of strong hooks and virtuoso musicianship with as much ramshackle charm and distinctive oblique wit as the aforementioned lo-fi champions. Unlike previous self-produced outings, this one features 90s indie-rock contemporary turned producer Beck Hanson - who recently oversaw Thurston Moore's superb Demolished Thoughts - at the control desk, and rather than emphasise the Jicks' weird idiosyncrasies as one might expect, Beck helps deliver the closest thing we're going to get to the classic Pavement sound.
Malkmus traditionally writes two kinds of songs: long, complicated guitar-heavy "jams" and simpler, catchier "pop songs". With Mirror Traffic, he has crafted a song oriented album and, for better or for worse, dropped the gratuitous guitar solos of the meandering, proggy excesses of 2008's tremendous Real Emotional Trash. What we have here is classic Wowee Zowee-esque song titles like Jumblegloss and Spazz, a semi-sprawling 15 track landscape (Wowee Zowee had 18), and many songs clocking in under three minutes. Gone too, thankfully, are the silly keyboard sounds, bubbly electronic cheese-bleep novelties and smarmy goofiness prevalent on earlier solo outings - however, the Jicks certainly aren't locked into writing in this more conventional style, just as they weren't locked in after the strong, song-oriented Face the Truth (2005). Mirror Traffic does get caught up in it's own glorious riffage on more than one occasion - it wouldn't be a Malkmus album if it didn't.
As expected, the songwriting on the whole is excellent. This is confidently displayed on muscular opener Tigers, his best track since Pencil Rot. Accompanied by spidery guitar patterns and forceful drumming from now-former member Janet Weiss, it unfolds leisurely, seamlessly melding loose almost jazzy musicianship with Malkmus' slinky stream of consciousness lyrics of frozen enemies and tokens of my voice naturally rolling with the melody. So too Share the Red (original title was Bill Fay, and for good reason) and the smooth, slow burn of Brain Gallop (both over 5 minutes long) featuring lyrical mediations directed to the majority of our fellow humans: Have you no tears/have you no heart/you go no idea what sets you apart. The non-production on Malkmus' guitar work sparkles with a strong melodic sense, and there is a gigantic prog solo over a quirky 7/4 time signature worth the price of admission alone.
Album highlight Stick Figures in Love ranks among the Jicks' very best work, and features an ascending melody and tuneful guitar-refrain-as-chorus, forever a Malkmus trademark. Punk/fuzz old-school slasher Tune Grief recalls Serpentine Pad-era Pavement and morphs back and forth from a surf romp to several shades of noise rock with alarming frequency, Malkmus' vocal buried deep in the mix where it belongs. With it's upbeat tones, Forever 28 masks darker stoner logic: No one is your perfect fit/I do not believe in that shit/Don't you know that every bubble bursts/Kill me.
Only lead single and US-hell-in-a-handbasket anti-hit Senator seems completely pointless; an unusual misstep for Malkmus, with the cringe-worthy refrain of "I know what the senator wants/what the senator wants is a blowjob." Elsewhere there are melodic gifts for the patient such as the mediation on mortality Fall Away, featuring some pedal steel guitar from former Beechwood Sparks member Farmer Dave, plus a delightful French horn solo bought in for the laid-back groove of No One Is (As I Are Be), one of the finer moments on the album.
With the satisfyingly realized and solid Mirror Traffic, Malkmus is at the top of his game, both as a consistent songwriter and guitarist, continuing the upwardly mobile trajectory of an enduring and golden indie-rock solo career in it's second decade, playing and singing better than ever.
24 August, 2011 - 05:15 — Pierce Brown