Music Reviews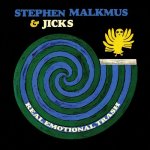 Stephen Malkmus and the Jicks Real Emotional Trash
(Matador)
Buy it from Insound

Stephen Malkmus is back with the Jicks in tow for more of the extended guitar canoodling and occasional cosmic tinkering we expect from the one-time Pavement front man. With a freshly formed, tighter version of his band, Malkmus feels comfortable proving himself as a guitar rock mainstay, even if he has to put us through variable amounts of tedium in the process.
Real Emotional Trash begins excitingly enough with the gloriously affable Dragonfly Pie. There's enough stirring band interplay and digestible melodies to balance each other out. The sleek jam Hopscotch Willy follows and all is well. The problem arises when the songs that are long begin to feel it. The 10-minute prog-rock title track builds to an extremely average crescendo, where it's content never quite justifies its length. Much more exciting is the three-minute pop exercise, Gardenia. It's bouncy, dumb-fun and it's just catchy enough to succeed without having to depend on irony.
The reserved pleasantries associated with Malkmus' Jicks-free album Face the Truth are sparse here, but I guess we have to allow him to indulge himself every once in a while. It's what made him interesting in the first place. The hazy feel surrounding Pig Lib is also gone and replaced with an alert approach to production. Thankfully, Malkmus is still funny, clever, and able to wink after each oblique couplet.
The addition of Janet Weiss (previously of Sleater-Kinney) and her no-holds bar drumming add a certain sonic punch. And while the band is focused, their larger aspirations get in the way as songs ramble a bit aimlessly, never truly climaxing. Real Emotional Trash feels like a compromise, for Malkmus and for us.
6 August, 2008 - 11:48 — Brett Oronzio