Music Reviews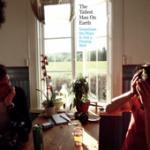 The Tallest Man on Earth Sometimes the Blues Is Just a Passing Bird
(Dead Oceans)

Perhaps there is a lost artist colony of expat Mississippi Delta bluesmen living somewhere in rural Sweden that no one knows about? There's no other way to explain the one-man-folk demigod that is Kristian Matsson. For years now, he's been turning the glitch-ridden, techno-influenced Swedish music scene on its ear by producing nothing but bare, heartfelt tunes about love and longing. His new EP, Sometimes the Blues Is Just a Passing Bird, delivers that classically beautiful sound Matsson is known for, albeit with one shocking surprise: dude's gone electric.
Well, at least for one song he has, but still it's quite a surprising development for an artist whose catalog's previously most controversial accompanying instrument was a banjo (which up to this point I was sure didn't exist in Sweden yet). Even more startling than hearing a Tallest Man on Earth song with electric guitar is discovering that it is in many regards the best track on the entire release. Like all of Matsson's songs, the track is sparsely recorded: just guitar, his powerful cracked voice, and a hint of piano in the background. However, the songwriting carries lyrical potency that transcends the sum of its parts. When he reaches the chorus, belting out the line "Sometimes the blues is just a passing bird, why can't that always be…" you'd be stone-cold robotic not to get choked up, even if only a little bit.
An offering of this power, released within the same year as the magnificent LP The Wild Hunt, should quash any other critics' claims that Matsson is an IKEA Bob Dylan knockoff. He manages to take the beaten-to-death folk love song and inject a new breath of loneliness and longing into it, armed with barely more than a scrappy voice and an oddly-tuned acoustic guitar. He follows the spirit of his much-loved Robert Johnson and Leadbeally, using a traditionalized form of music (in Matsson's case Guthriesque Folk) to convey the human spirit at its finest. Even in the face of demoralizing odds, Matsson's energy and spirit is obviously tarnished, yet not crushed. In many ways, his music is more punk than punk music is nowadays—stripped down completely to only the most basic and bare of instruments, the tiny Kristian Matsson manages to live up to his name as The Tallest Man on Earth.
29 November, 2010 - 09:01 — Preston Bernstein