Music Reviews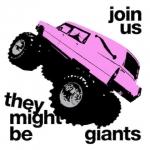 They Might Be Giants Join Us
(Idlewild)

Success is overrated - the secret to longevity in the music industry, it seems, is to just carry on under the radar for as long as you possibly can. Over They Might Be Giants' 29 year lifespan, there may have been a few moments where the band flirted with fame (making their moniker seem particularly apt) but for the most part they've merely been a cult concern, and as a result have been free to do pretty much whatever they liked.
After spending the last few years doing educational (but fun) music for kids, their fifteenth album, Join Us, sees them catering for adults again. Although despite a healthy scattering of 'dicks' in the opening track Can't Keep Johnny Down, it is, of course, pretty much business as usual. There may be hints of other styles - Cloisonné and In Fact play about with jazzy brass arrangements, Old Pine Box verges on country and The Lady and the Tiger even sees them broach the tricky waters of lo-fi hip-hop and just about get away with it - but for the most part it's all very bright, sunshiney college rock. It's actually all so effortlessly sparky and enjoyably nerdy (perhaps most so on Celebration, a big dumb party anthem that still manages to fit in references to Banksy and Hieronymus Bosch) that you'd hope that Weezer are listening and taking notes. In other words it's all good clean fun, with even the spitefulness of Judy is Your Viet Nam and When Will You Die delivered with a knowing wink.
One thing that the band probably should have learnt from their recent experiences entertaining kids is the importance of brevity but, even if the tracks are always short and to the point, including 18 of them seems a bit like overkill. Although, to be fair, deciding on which ones to remove would be a fairly arbitrary process as they're all fairly equal (with the exception of the irritating Dog Walker). It's certainly a far more consistent record than their last one for 'grown-ups', The Else, which is surprising considering how much longer Join Us is.
To be honest, giving the album a score seems a bit pointless as it's pretty clear how it will be received – at this stage in their career, Join Us won't be winning They Might Be Giants many, if any, new fans, but it's more than good enough to hold the interest of those already paying attention. It's a solid, summery album that more than delivers on the tunes, and the LOLs, and you can't really ask for more than that.
21 July, 2011 - 07:44 — Mark Davison