Music Reviews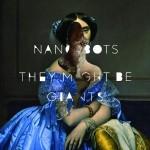 They Might Be Giants Nanobots
(Idlewild/Megaforce)

They Might Be Giants' long-running and successful experiment in alternative amusement has just reached new levels of awesome with their 16th studio album, called Nanobots.
I've loved TMBG since Birdhouse in Your Soul and Istanbul (Not Constantinople) were released in their 1990 record Flood: they are, in a way, responsible for nudging me towards my first tottering declarations of adolescent autonomy, and towards a future love of all things alternative, punk and indie – I mean before each of these monikers eventually collapsed upon themselves in an implosion of counter-coolness. Here I am, 23 years later, still loving their quirky sense of humour, bad puns, and cool lyrics (who else could rhyme "etiquette with Connecticut"?). Founding members John Linnell and John Flansburgh (known as The Johns) have, on their record, kept all the elements that make them recognizable and lovable - the Weird Al Yankovic/Frank Zappa sardonic nasal singing, the bouncy pop melodies, the horns and groovy beats, the lyrics that will make you snort in laughter - or roll your eyes – but have made it fresh enough to keep you from feeling cheated. The theme is familiar, but there's a delight in discovering all these new songs and the new stories they tell.
Nanobots may seem ambitious with its 25-song track list, but most of these songs bang out at just under 3 minutes, and they're all interesting enough to merit a good few 'rinse and repeats'. Some tracks, like the opening You're On Fire or Call You Mom, are designed to grab your attention and get you out of your chair, while others (see Stone Cold Coup d'Etat) are wrapped in metaphors so deep that you (read, I) would require a degree in cryptology to understand - but fortunately not to dance to. Then there's the geeky heartbreak you would only find on a track like Telsa, a song that pays tribute to Nikola Telsa, a relatively unheralded Serbian-American engineer, physicist, and futurist who patented the AC induction motor and transformer, worked with X-ray machines and wireless transmissions - just to name a few biggies - and died alone (and quite possibly insane) in a hotel room in 1943. When TMBG sing "Here is a mind, that can see across space, Here is a mind soaring free, Sound turns to light and light turns to waves, And waves turn to all things perceived, Maybe that knowledge would drive one insane, How can that knowledge be tamed?", it's hard to ignore the fact that we're being serenaded by some really dazzling intellect, and some really skilled song-writers. It's not all jokes and attention-deficit wackiness, although you'll find your fair share of that, too.
Nanobots is, at the end of the day, a solid and immensely likable album. They Might Be Giants aren't reinventing themselves - they don't need to - but it's still a fresh and quirky album that will appeal to anyone with a bit of energy to burn, a hankering for ironic, tongue-in-cheek commentary, or a love of anything geeky.
17 March, 2013 - 04:25 — Melissa Murphy