Music Reviews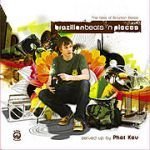 Various Brazilian Beats n' Pieces
(Mr Bongo)
Buy it from Insound

Brazilian Beats n' Pieces is compiled by a British guy who calls himself Phat Kev, whose name and prominent figure on the album cover made me wince initially. What a horrible way to present yourself. One almost can imagine the arguments that have been settled with the proud declaration of "Dude...you can't fuck with me...I'm Phat Kev...the phattest turntablist in the phattiverse...no that's with a 'PH' not an 'F'...yeah that word Russell Simmons was so fond of fifteen years ago."
Fortunately, such nonmusical gripes do not actually speak to the quality of this collection. Brazilian Beats n' Pieces collects some of the finest tracks from the already handpicked Brazilian Beats series on Mr Bongo Recordings. Phat Kev proves himself to be a better DJ than namer of himself, dashing through segments of over 30 tracks in just under an hour, judiciously throwing in scratches, juggles and loops to enhance the momentum. As such, its an effective mix, perfect for party soundtracking if less so for headphone pondering. A tremendous amount of sonic ground is covered, and the only frustration is the frenetic overload of eclectic Brazilian cuts, past and present.
Ivo Meirelles and Funk 'n Lata deliver an explosive Baile Funk Medley. Beatfanatic's take on Jogando CapoeiraToni Tornado recalls funk icons worldwide, from James to Fela. Silvio Cesar's A Festa recalls crucial seventies Marvin Gaye releases with its full, background conversation laden production and sticky keys. Trio Esperanca's Nao Aguento Voce sports a lovable girl group vibe. La Lupito by Nina Gomez, like many tracks here, is a b-boy throwdown just waiting for the cardboard with its percussive breaks and deep funkiness. Anaa Mazzotti brings a laidback quality to En Sou Mais Eu, which still percolates with burbling keyboards beneath her. Miguel De Deus evokes classic blaxploitation themes with soulful chorus proclamations and clamoring noise in Black Soul Brothers. Som Tres excels on the second version of Take It Easy My Brother Charles offered here, both modern and retro, and owing a debt to downtempo, which owes a debt to Brazil.
Speaking of the overload beforehand, I had a hard time and finally gave up selecting "hightlights" or trying to figure out which specific cuts to point out, and the embarrassment of riches here left me finally to give up and just list and shuffle them as I listened. There is so much highly specific good stuff here, but honestly, if you asked me away from the computer, I could only rattle off a few names, and they would probably include the ones I already knew (Seu Jorge and Jorge Ben are both represented in their respective fine styles here). Part of it is anglo ignorance and part of it is simple overstuffedness, but that's a good thing. In addition to maintaining a feverish intensity (yes, the album starts slow and there are periodic efforts to cool down, but this music is generally too intense not to build to a crazed level of energy within a few tracks), the album most creates the desire to go back and listen to the artists included at a slower, more complete place. If the intention was to celebrate and stoke interest in the Brazilian Beats records, then it succeeds.
8 September, 2007 - 20:49 — George Booker