Music Reviews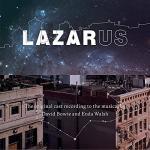 Various Lazarus (Original Cast Recording)
(Columbia)
Buy it from Insound

Saying that David Bowie was theatrical is as obvious as saying 'water is wet.' It's only shocking that it took him so long to put together his own musical. Lazarus ran for a limited engagement in New York last winter. It's just starting up previews in the West End this month. Envisioned as a sequel to The Man Who Fell to Earth, it features tons of Bowie covers. Unless you see the show, the plot seems to be hard to come by. But the songs hold up in their new setting.
Generally, musicals that incorporate established song catalogs either hew too close to the original or go wildly off-base. Bowie's direct involvement makes this a smoother ride than most, though. He knows how far he can pull apart his tunes.
Love Is Lost
is more bombastic, building to the guitar and
synth
lines.
Changes
moves from a forlorn piano number to a
doo-wop
pastiche.
The Man Who Sold The World
dramatically switches to an acid house trip that warps the classic guitar riff.
Many other songs are more traditional, but bolstered by the actors' performances. Michael C. Hall's voice fits the character of Thomas Jerome Newton like a glove. He doesn't copy Bowie's voice as much as adopt his mannerisms.
Lazarus
,
It's No Game
and
Where Are We Now?
are
showstoppers
. The rest of the cast holds up pretty well, too. Give a listen to Sophia Anne Caruso's showcase of
Life on Mars?
, Cristin Milioti's take on
Always Crashing In The Same Car
and the ensemble singalong for
All The Young Dudes
. A few performances fall flat, though.
This Is Not America
,
Absolute Beginners
and
Valentine's Day
are average and forgettable.
But let's get real. You want to hear about the three new Bowie songs from his final recording sessions. No Plan is a slow crooner, full of strings and a mournful sax. It finds Bowie resigned, accepting that he has no control over his fate. But the artist has one more roar of defiance in Killing a Little Time. Melding his jazz approach to the hard rock of The Next Day, Bowie snarls out lines like "I've got a handful of songs to sing/To sting your soul/To fuck you over/This furious reign." When I Met You is the catchiest of the bunch, centered around acoustic chords and overlapping vocals. These three are an excellent coda to Blackstar. They'll thrill you but also make you sad all over again that this is the end of the line.
It's difficult to judge a soundtrack separate from the production. But even without the visuals, Lazarus is still worth a listen or two. The performances range from solid to great, and the covers of these classics are often fresh. Throw in three new Bowie songs and you'll find there's much to love. Even after his death, Bowie is still finding ways to surprise and delight us.
25 October, 2016 - 04:55 — Joe Marvilli