Music Reviews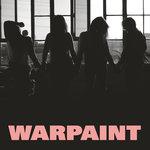 Warpaint Heads Up
(Rough Trade)

Warpaint return with their third LP having made some minor adjustments to a blueprint they'd be foolish to ever fully dispense with. The LA-based four-piece have spent time working on other projects since their excellent self-titled record, and when Heads Up's first single New Song dropped, fans of Warpaint may well have received bit of a fright at its unashamed pop leanings. Although the immediacy of New Song is an anomaly in the context of another captivating array of intricate, seductive and sultry grooves, there is definitely a change in the texture of their amethystine soundscapes. Overdubbing is in much shorter supply, and there is much more propinquity to a lot of the songs, however all of the Warpaint strengths – the stealthy vocal harmonies, gilt-edged rhythms and tortuous, laced guitars - are as well executed as ever.
The general increased immediacy of Heads Up is apparent from the get-go, with one of the aforementioned trademark Warpaint strengths displayed in full from the very first line of vocals delivered. The way Emily Kokal and Theresa Wayman come into the fore with their clandestine, unarmed vocals in Whiteout is nothing short of delectable. This is, as is to be expected, a common theme throughout a Warpaint record, but in some cases with this record the balance and purification of the vocals is remarkable. Track five, So Good, is arguably an even more pertinent example of this. Kokal and Wayman's vocals float serenely over a elastic bassline, with Wayman in particular achieving maximum effect by quietly imploring. The way the line "Can't you tell me all your secrets / I'll tell you mine" is delivered is nothing short of exquisite.
There are areas of the record where there is still plenty of dubbing, operating not quite in a different timezone to the poppiest immediacies on the album, but a reasonable distance from them nonetheless. By Your Side is a nod to The Fool, with the track growing in stature and engineering a considerable array of moving parts. The Stall is superb, with Jenny Lee Lindberg's bassline patrolling a complex arrangement with great assurance. The track also finds room for an irresistible jazz-funk bridge, which sounds completely felicitous amongst the brooding persuasion.
Strong stuff continues to present itself from start to finish. Don't Wanna evokes haunting overtures of Radiohead's Climbing Up The Walls, with murmured vocals and an edgy, subdued beat from Stella Mogwaza making for one of the more ghostly moments of the album. Don't Let Go is another track with remnants of The Fool, this time nodding to its more stripped back elements, namely Baby. Title track Heads Up is another exhibition of the incredible use of the voices at their disposal after an uncharacteristic piano intro gives way to a bustling, busy bassline.
Warpaint are at the very top of their game, showcasing a full understanding of their sound and the tools needed to get the best out of it. Heads Up is more of a sideways swerve for the band as opposed to a notable shift, but the fact that the band's members have worked on other projects before coming back and understanding each other's roles so explicitly is an indication of just how accomplished the quartet are as a unit. The first lyric delivered by Kokal and Wayman is 'You wouldn't know it but you're really in your prime,' and theirs is a band that is well and truly in theirs.
26 September, 2016 - 04:12 — Carl Purvis