Music Reviews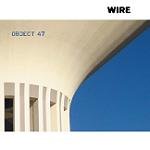 Wire Object 47
(Pink Flag)

My favourite Wire album is Chairs Missing. Released only eight months after the band's debut, the more immediate, punky Pink Flag, it captured an inventive young band developing at an exponential rate in terms of both songwriting and musicianship. Next month marks the thirtieth anniversary of Chairs Missing's release. It's amazing really – there aren't many records from 1998 that sound as fresh and as interesting today as this outstanding post-punk document. Indeed, given that this band built its reputation on such a classic triptych of albums (1979's 154 isn't half bad either) it's hardly surprisingly that Wire is still producing relevant and exciting music in the year 2008.
The key to Wire's continuing success is artistic control. The band is very much operating on its own terms. All releases are issued on Pink Flag, Wire's own label, and the music arrives when it's ready. Ok, so releases have been relatively infrequent in the last decade, but listeners have been rewarded for their patience by a high quality threshold.
Object 47 – so called because it's the 47th item in the Wire discography – is only nine tracks long, but each of those nine tracks is compelling in its own way. The best tracks, such as the feedback drenched All Fours and the sublime Circumspect, are simply electrifying.
In the unlikely event that anyone doubted it, Object 47 is proof that Wire's edge remains as sharp as ever.
28 July, 2008 - 21:31 — David Coleman