Music Reviews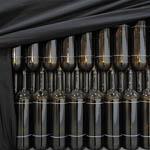 Wire Red Barked Tree
(Pink Flag)

It will be said time and time again that few bands following the '77 boom had as much influence on where punk was going to go as Wire had, their Pink Flag/Chairs Missing/154 blueprint as essential to modern rock music as any album by The Clash, (as far as bands that matter are concerned). In spite of their rep, the (now) trio of Colin Newman, Robert Grey (Gotobed) and Graham Lewis still manage to create interesting and distinguishable albums while other younger post-punk mutations, many of whom follow Wire's example, breed their own art rock records and saturate the Internet, vying for iPod rotation and "Likes."
Red Barked Tree follows 2008's very good Object 47, a more direct and punchy gang of songs that ride out the album's length in as conventional a way as Wire is capable. The band stays true to their rhythmic minimalism and bouts of art-infused modernity and Red Barked Tree has a consistency that its predecessor lacked to some extent, though 47 seemed more prone to experimentation and risk.
Red Barked Tree has melody, the hostile lyric and resigned tone of Colin Newman's vocal in Please Take ("Fuck off out of my face") pleasant, an effect compounded by the song's palatable tune. As Now Was kicks the tempo up a notch and Adapt acts a tapestry threaded together by heartsick strums and echoing embellishments, Two Minutes molds angular sonic delight into a platform for spoken observations and thoughts ("Coffee is not a replacement for food or happiness"). Aside from the crunchy Moreover, Two Minutes is as immediate and strange as the album gets.
As stated, though, with Wire having laid essential groundwork for many a band to claim and build upon over the last thirty or more years, modern rock songs that might sound M.O.R. or "conventional" now find their roots with this band. Songs like A Flat Tent or Smash would likely mean less coming from another post-punk band and, though the songs are good, Red Barked Tree suggests that Wire suffer somewhat at the hands of their offspring, familiar sounds and ideas now challenging Wire's typically adept songwriting and possibly removing some of the luster from their output. The fact that Clay takes cues from I Am The Fly, (from 1978's Chairs Missing), while not pointing to an absolute dearth of ideas from the band, might mean that the appropriation of their sound has had some negative consequences. It's the price you can pay for being seminal: that your lessons, though meant as tribute, might wind up exhausted.
Red Barked Trees, though, with its steady and persistent strum and arresting rhythmic pulse, offers reason enough to understand why Wire remain important. Having cultivated the cerebral and imaginative aftermath of punk rock, Red Barked Tree is the work of a still-functioning band that continues to move ahead, their progeny hanging on to every riff in an effort to mean something as well.
11 January, 2011 - 05:39 — Sean Caldwell