Music Reviews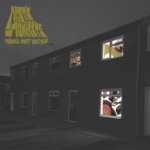 Arctic Monkeys Favourite Worst Nightmare
(Domino)

Until I read Simon Briercliffe's damning review on this very site, I felt like I was the only music fan who hadn't really warmed to Arctic Monkeys' debut album. Don't get me wrong, I tapped my foot along to the hit singles with the rest of the UK, but I never quite grasped what the fuss was about. I can appreciate that many bought into the underdog story, the Internet-propelled rise to stardom - we love that kind of thing over here - but this doesn't quite explain to me how a distinctly average record with a handful of admittedly decent singles became the fastest selling debut in UK music history. Maybe as a Sheffield native I was too close to the epicentre of the hype to succumb to its influence? Or perhaps I'd just heard Fake Tales of San Francisco in the Leadmill enough times to be bored of it before the record even came out? Either way, after a year of listening to every casual music fan I know singing the praises of the most important British band since Oasis/Stone Roses/The Smiths/The Clash/The Beatles(!), I wasn't too enthusiastic about the prospect of a second helping.
Like its predecessor, Favourite Worst Nightmare is blessed with both an appalling title and horrendously dull cover art. The band has picked up NME awards, number one singles and a Mercury Prize, but they're clearly not going to win anything for design. Rarely has a number one record looked so cheap and tacky.
The album begins with its lead single Brianstorm, a scathing attack on, yes, the pun gives it away, someone called Brian whose pretensions and dubious fashion sense presumably irked Alex Turner. A boisterous assault of heavy guitars and powerful drumming, this opener lacks the subtlety and complexity of some of the Monkeys' better singles. Turner's lyrics, usually one of the band's most potent weapons, have a decidedly sixth form feel too: "Some want to kiss some want to kick you / there's not a net you couldn't slip through / or at least that's the impression I get 'cause you're smooth and you're wet". Put your Morrissey comparisons aside; we're moving into Noel Gallagher territory.
Things get slightly better with Teddy Picker, which curiously reminds me of Prefab Sprout's The King of Rock 'n' Roll - I think it's the bassline, and I'm sure it wasn't intentional - but D is For Dangerous and the frantic Balaclava are ultimately as forgettable as Brianstorm so we'll move swiftly on.
Favourite Worst Nightmare middle section is arguably its highlight. Fluorescent Adolescent, a slice of summery guitar pop cut from the same mould as Mardy Bum, is probably the best track on offer here. Only Ones Who Know is the token slow number, a sombre ballad which although not particularly interesting on its own provides a welcome contrast to the chugging rhythm guitars and wordy verses of, well, the vast majority of the album. Do Me a Favour is another competent mid-tempo tune, the kind of mature sophomore effort I'd been expecting from the Monkeys. Again, it's no When the Sun Goes Down, but it's significantly better than some of the dross that follows. I'll spare you the gory details but aside from the rhythmically taut If You Were There, Beware there's very little to write home about from this point onwards.
The Arctic Monkeys were always going to struggle to follow the phenomenal success of Whatever You Say I Am, That's What I'm Not and despite some of the glowing reviews I've read elsewhere, the twelve songs that comprise Favourite Worst Nightmare have failed to convince me that this is anything other than a resounding failure. There's a lot of bluster and enthusiasm here but I'm struggling to identify much in the way of true substance.
29 April, 2007 - 16:45 — David Coleman