Music Reviews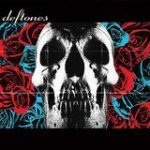 Deftones Deftones
(Maverick / Warner Bros.)
Buy it from Insound

The Cali quintet Deftones return to claim what's rightfully theirs - the nu-metal throne. Their sound has long been a perfect amalgamation of pigeonholed genres. Indie/alt rock, and heavy metal with a dash of, dare we say, emo. While Chino Moreno's contemporaries (Korn and Limp Bizkit) have moved on to much less interesting endeavors (porn and really shitty songs about Britney, respectively) the Deftones drop in about every three years with unmatched sonic splendour complemented by Moreno's melodious yet often frightening shrieks on the mic.
Their eponymous fourth release opens with Hexagram, with Moreno as usual sounding as if he had been shot out of a cannon. Moreno's vocals throughout are much more appreciated than on their last release White Pony, and lyrically the songs have a lovelorn appeal. The bile-churning bass on When Girls Telephone Boys is the ideal complement to Moreno's crooning lunacy, "Something's wrong with you / Well I hope we never do meet again." And on the moody Battle Axe Moreno seethes "I want to sleep if you are awake / Still making believe that you aren't at all crazy."
The band breaks the tension with the spacey bounce of Lucky You, a trippy, ketamine-laced jam thrown in to perhaps whet the appetite for Moreno's highly anticipated trip hop collaborative due out late summer. And similar to the excellent, densely melodic Around the Fur, the band slows the pace at times, with new tracks such as Deathblow conspicuously kicking in your teeth while mastering the quiet-loud-quiet motif.
Overall the album generally stays within parameters of the patented Deftones style, which is something we can't get enough of, and something Linkin Park fanatics will never comprehend. We can only hope for a club tour to coincide with the crappy Summer Sanitarium arena tour this summer, where Deftones fans will have to drop at least a C-note to see Moreno in action for a mere thirty minutes as the opener, while Linkin Park gets top bill under Metallica - truly absurd.
3 June, 2003 - 23:00 — Chris Conti