Music Reviews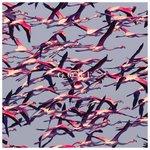 Deftones Gore
(Reprise)

We're over 20 years and 8 albums on from Deftones debut LP now, and their ability to constantly synthesize and refine the chemistry of their sound has enabled them to remain as compelling an entity today as they ever have been. As a result, they are a band that boasts one of the most consistently strong discographies of any band still at work.
Deftones worked out early on that metal music didn't have to be brutish in its hostility, and despite being more monochrome than its technicolour predecessors, Gore picks up not far from where Koi No Yokan, and Diamond Eyes before that, left off. From the outset it's clear that the album's sound is there to entice as much as assault, with the notes of opening track Prayers/Triangles swimming through a restless groove, before a spirited chorus is adorned by a full-blown torrent of guitar that manages to stay far away from oppression.
Gore is the band's first LP since the tragic death of Chi Cheng, who died in 2013 four years after the car accident that left him in a semi-conscious state, and although there is no direct reference in this album to it, there are moments where the band are perhaps more sober than usual. Acid Hologramemanates a slow burn that substitutes intensity for introspection, and is mixed in a way that brings the structure and texture of the track to the forefront of its sound. These more sober moments don't stick around for too long - Doomed User follows Acid Hologram with one of Stephen Carpenter's most severe riffs, providing the album with its most ferocious track.
Musically, the chemical reactions of Deftones have resulted in their shelf life outlasting the genre they were pigeonholed into in the late '90s, and this has enabled them to evolve and remain relevant naturally without having to pander to the evolution of the wider landscape. There are however a lot of moments throughout Gore where the only thing Chino Moreno is exploring vocally is his own comfort zone. Throughout the band's discography, Moreno's oxymoronic vocals have meandered their own way around the bedrock of the Deftones stratified sound, but on too many occasions here he is drifting through valleys that he has already cut himself. Maybe it's a harsh criticism, but Moreno has shown over the past twenty years that he can match the chemistry of his band's instruments by using his voice as his own. Too often here he does not do that, and on tracks such as Pittura Infamante and Xenon, saunters on close to autopilot.
Asides this criticism, Gore is Deftones on the form we've been treated to for two decades. The eerie arpeggios of (L)mirl and the full-frontal metal grooves of title track Gore are the result of Deftones expertly executing their own refined craft, and the album's keystone Hearts/Wires is allowed the time to build and morph into one of the better tracks the band have produced over their past few records.
Gore is a listen as complex and engrossing as we've come to expect from Deftones, and they continue to be a band that matures organically, becoming more and more fluid in their own craft. They simply do not produce mediocre records, and their grasp on melody, groove and controlled aggression has become a hallmark that is fully their own, and a reference point for any band that goes near the waters they've patented.
25 April, 2016 - 16:24 — Carl Purvis