Music Reviews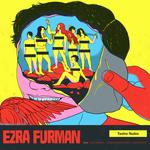 Ezra Furman Twelve Nudes
(Bella Union)

Ezra Furman's last album, 2018's extraordinary Transangelic Exodus, finally gave the Chicago songwriter the audience critics had long predicted. It was an ambitious, bold concept, but also one that didn't sound like his other work that was less playful and more agitated and paranoid. It was, as Furman described it, a "mind record" that had been poured over—and to keep it as a refined concept album, there was plenty being held back.The softer, more earnest music went towards the soundtrack to Netflix's Sex Education, and in the other there's Twelve Nudes—a scratchy, messy 26-minute burst of emotion.
Furman has said that while making the album, he and his band "drank and smoked." "Then we made the loud parts louder. I hurt my voice screaming." And for the most part, it sounds exactly as billed. On the instantly gripping opening, Calm Down aka I Should Not Be Alone, Furman gradually ramps up the intensity until he's screaming the cliches back at you ("Please stop crying, take a deep breath, take a tall glass, ice cold water") before swooping back into his more traditional doo-wops. Considering his last two projects have been his cleanest, Furman seems to revel from repeatedly putting an extra spanner in the works.
Given that Transangelic Exodus was so carefully considered, it's refreshing to see Furman mess around again. Rated R Crusaders is an almost overwhelming dip into new wave, Thermometer leans into 90s pop-punk, and even in the more expected classic rock-inspired music there are more rough edges. Eventually, though, the constant change of pace takes a toll, especially with the oversaturated production and mixing (with help from John Congleton) often making the vocals almost unintelligible. It's easy to see what they're going for, but when Furman is such a clever, knowing lyricist, it's a strange way to order priorities.
There are moments where the balance is right. Trauma especially stands out as a riff-heavy delight that makes just as much of a statement written down ("The big scam is nobody gives a damn, that the penthouse suit depends on the bottom three floors"), but Furman remains at his best when given some room to breathe. The intro of I Wanna Be Your Girlfriend also sounds like a lost Velvet Underground guitar lick, before turning into a bold love song that discusses Furman's gender dysmorphia. It's a reminder that, however much he borrows from his influences, he is still an original voice in indie rock. Transition From Nowhere to Nowhere is a crushing ballad that he describes the closest he's got to discussing his own gender, although it's not explicit and instead dwells in the loneliness of living in a grey area ("If you're really at the end of your rope, no you don't take the night off. Too many demons to fight off"). Another highlight is the unashamed pomp of In America, a joy that bears more than a passing resemblance to Dancing In The Dark—although there's probably worse places to start than Springsteen when writing a song about loving a country that is fundamentally broken.
Coming in at 26 minutes, Twelve Nudes doesn't hang around and, by design, is a much more modest record than Transangelic Exodus. It rarely matches the highs on last year's effort, but paired together, it suggests Furman is the midst of a prolific period. Maybe he just needed to get this chaotic burst of anger out of his system, not preoccupied with making statements but channeling that frustration. On the album closer, he howls, "What can you do but rock n roll?" He might have a point.
2 September, 2019 - 11:27 — Matthew Smith