Music Reviews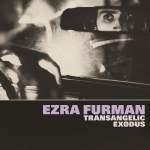 Ezra Furman Transangelic Exodus
(Bella Union)

Few people would feel like they needed another story about 'The Road.' Whether metaphorical or literal, journeys have long been depicted in everything from high art to reality television. It's a topic you'd expect Ezra Furman to move away as well following his last-full length effort, Perpetual Motion People. While he does return to the idea of constantly being on the move, Transangelic Exodus is the sound of leaving in the dead of night.
Suck the Blood From My Wound sets the wheels in motion as a track more sinister than anything that Furman has produced before. A familiar progression is surrounded by echoing howls and instrumentation being piled on up until the point of distortion. Furman details his plan, summed up with a rallying cry of "we're off the grid, we're off our meds, we're finally out on our own." Comparisons to Bruce Springsteen have been made before, but it's never been more evident than here. As the lyrics start to rush and he begs, "don't fight it, to them we'll always be freaks," it veers into unashamed Born to Run territory with similarly empathic results.
Furman has said that this isn't a concept album as much as a collection of loosely-connected stories, but it is undoubtedly best enjoyed as a complete piece. The gist being that Furman has broken out of a hospital with a modified angel, and the government is now trying to track them both down - as he described it, a "queer outlaw saga". The mention of the government in pursuit gives the album an authoritarian air but, perhaps surprisingly for an album where the state is the antagonist, it largely steers clear of any political statements. This story serves as a vague enough premise that can be molded to fit around whatever ideas he does want to discuss - there are the straight-up love songs, like Love You So Bad, but he's also able to commit to more novelistic storytelling as on the grand Psalm 151.
The contrast between the bombast of tracks like Driving Down to LA and the quieter tracks mean they work almost as interludes, with Furman becoming more introspective about religion, identity and love. Compulsive Liar is a crushing lament about the lies he had to keep as a closeted teen, while tracks like From A Beach House allow a paranoia to grow throughout the album - whether that's about the journey or avoiding stares while buying dresses. It all comes to a head on the theatric Come Here Get Away From Me. At this point Furman, penniless and sick with a "plague in his head," becomes resigned to his fate, knowing that not even his god can save the pair before "somebody pays for things I've done".
There's something admirable about the commitment to this being a cinematic, dramatic album. On Peel an Orange Every Morning, he reflects on the tiny daily patterns of his trip as he heads towards "the end of his own need to drive" - he's shattered and bleeding, but "god dammit I'm alive." At just 1:42, this feels like the concluding chapter - one last diary entry before he abandons the car for pastures new. Even the strangely jaunty closer, I Lost My Innocence, feels like it could have been written to accompany the final rolling of the credits. It's an ambitious aim that's matched with the songwriting risks taken, but when it's pulled off this perfectly it almost raises the question of why it took him four solo albums for him to try.
With Furman already establishing a consistent sound over his previous records, it was perhaps expected of him to cover some well-worn ground again here. Instead, and appropriately, Transangelic Exodus is an album that constantly takes left turns and refuses to slow. It turns out that with the right driver, there are plenty of miles left on the old road yet. [Believe the Hype]
6 February, 2018 - 04:46 — Matthew Smith