Music Reviews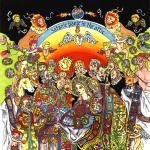 Of Montreal Satanic Panic in the Attic
(Polyvinyl)

In a prolific recording career spanning eight years (and nearly as many record labels), Of Montreal's Kevin Barnes has established himself as one of indie-pop's most consistently fascinating songwriters. From the joyous lo-fi rush of Cherry Peel, through the eccentric concept records (The Gay Parade, Coquelicot Asleep in the Poppies), right up to the self-proclaimed 'singles album' (Aldhils Arboretum), Barnes has continued to evolve as an artist, without ever really losing track of what made his best music so refreshing in the first place: that uncanny knack for sugary melodies, 60s-style harmonies, and brilliantly warped lyrics. And while occasional forays into self-indulgent territory - and in Cherry Peel's case, a slight lack of variety - may have prevented the above albums from attaining 'classic' status, Barnes is yet to miss the target with a studio recording, an enviable achievement for an artist focussing almost exclusively on guitar-based pop music.
Satanic Panic in the Attic is the seventh instalment in the Of Montreal story, and despite possessing a relatively conventional number of tracks (Barnes normally manages to squeeze at least twenty onto his LPs), is arguably the band's most ambitious to date. In the past Barnes has limited his experimentation to concepts and lyrics, rarely straying musically from the realms of bittersweet psychedelic pop. This time round, however, he's sidestepped the idea of concepts altogether, focussing instead on diversifying Of Montreal's music palette. Along with the traditional psychedelia, power-pop and acoustic balladry, Satanic Panic can boast flashes of disco, funk, and even electro, all without ever sounding forced.
While the opening pairing of Disconnect the Dots and Lysergic Bliss waste no time in asserting themselves as instant Of Montreal classics, much of the material here is bewildering, even irritating, at first listen. Take My British Tour Diary for example; at first I detested the song - perhaps because it reminded me of that dire Cyndi Lauper hit Girls Just Wanna Have Fun - but now, after something approaching ten listens, I love it, corny lyrics (example: "Left alone to drive ourselves on the opposite side / man, it was a miracle that nobody died") and all. I should note, though, that one or two tracks fail to improve with experience (and probably get even worse); Chrissy Kiss the Corpse, a hyperactive, country-tinged tune about pretty necrophiliac girl remains as grating as ever.
Other highlights include Rapture Rapes The Muses (if you can over it's uncanny resemblance to Franz Ferdinand's Matinee - oh, how I hate that song now) and City Bird, Satanic Panic's wonderful tender centrepiece, this album's equivalent to Cherry Peel standout Montreal. The uncharacteristically heavy How Lester Lost His Wife and the oddball finale Vegan in Furs aren't half bad either.
While Satanic Panic in the Attic is unlikely to make significant waves outside of Elephant 6 and indie-pop circles, those lucky enough to hear it (and persist with it) will find very little to complain about. Perhaps it falls a touch short of Kevin Barnes' best work - Cherry Peel and The Gay Parade remain my personal favourites - but as far as seventh albums go, Satanic Panic is pretty much in a league of its own.
8 May, 2004 - 23:00 — David Coleman