Music Reviews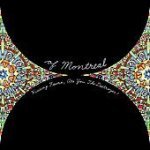 Of Montreal Hissing Fauna, Are You the Destroyer?
(Polyvinyl Record Co.)

Kevin Barnes is inscrutable. The sound he has crafted for Of Montreal is as singular and focused as any this side of Captain Beefheart; there is simply no mistaking it for anything else. On the surface, this seems like it might be a good thing, something to do with artistic vision, etc., but I'm not sure it is. After all, singular is just a 'g' away from insular, and for all his disco forays of late, not to mention the Pet Sounds via Andy Partridge eclecticism, there is just no way to tell where all this is coming from or how in the hell we are supposed to approach it. I mean, Jesus, I keep buying Of Montreal albums and I'm not really sure if I even like them.
In this respect Hissing Fauna is typical, only more so. Barnes' recording technique has obviously grown more reliant on computer programming over the years and this has leant his work a robotic quality that has allowed him to stretch out into disco, electronica and funk territories but also has sacrificed the kind of tempo stretching that made songs like Its Just So so poignant. This is a shame because Barnes is an artist who does not lack for good ideas. In fact he sometimes gets weighed down by too many which makes it difficult to keep up with his frenetic chord changes. On Hissing Fauna, Barnes continues, to his credit, the focusing of his songwriting chops on simpler arrangements which began with Satanic Panic in the Attic. Now the chord changes aren't necessarily three per bar, making everything a bit more accessible. Stylistically and thematically, Fauna breaks down into two parts, a confessional first half and a funked-up second, hinging on the 11 minute 53 pivot of The Past is a Grotesque Animal. Both parts work to a certain degree, but the first section, in which Barnes ditches his eternal whimsical fantasy for a lyrically direct and tortured catharsis, is something of a breakthrough, and helps us to finally make some emotional connection with the band.
The lack of engaging realism has always been one of the major problems for Of Montreal and the new material goes a long way towards solving it. The aforementioned Grotesque is the album centerpiece, literally, and is something of a dynamo. It's nearly 12 minutes of driving, relentlessly repetitive desperation, bringing to mind a sped-up version of Elvis Costello's "I Want You", and is maybe the best thing Barnes has ever done.
The other major problem remains unsolved. It's that Barnes is so demanding on his listeners that it's very difficult to return to his work on a casual basis. It seems to me like you need to be listening to nothing else for a week in order to fully accept what he is doing, and that week you really love it. But then you come back a couple months later and you wonder what you ever saw in it. I don't think I'm making excuses for being a bad listener, I just think that quite possibly Of Montreal doesn't always pay off what he demands in kind.
I'm basing all that on past experience. Right now, I really, really like this album. I do believe it's a step forward and I think it's his most focused and therefore his best work to date. I'm grooving to Labyrinthian Pomp and humming along with Heimdalsgate Like a Promethean Curse, even though I wish he would bring his harmonic genius with chord changes to exploring vocal harmonies, which are usually layered in the most mundane way possible.
Who knows what I'll think in six months.
7 February, 2007 - 20:48 — Alan Shulman