Music Reviews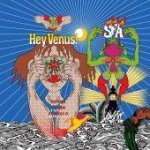 Super Furry Animals Hey Venus!
(Rough Trade)

A couple of years ago, after the release of Love Kraft, I wondered in print what had happened to our loveable SFA. After years of erratic, but high energy and occasionally brilliant pop songs, the band sounded tired and uninspired. I'd go back right now to try and deduce what was happening for you all but I really don't feel like listening to the album.
Right out of the gate on Hey Venus! we have what appears to be a return to form. The first positive development is song length, which has been reduced from an average of 4:52 to a more succinct 3:28. The other is that the early songs are strong, upbeat and lively; some of their most direct and unpretentious material of the decade. Unfortunately, the longer the songs get, the weaker they become. The sixth song, Into the Night, clocking in at 3:33, starts to show the strain. Baby Ate My Eightball comes next, and after a promising opening, immediately becomes repetitive and uninteresting. And now we are up to 3:35, so things are not looking up. Carbon Dating is better, kind of a soul/doo wop fusion, but still lacks the payoff its 4:35 promises. And don't even get me started on Battersea Odyssey, which, true to its title, sounds like an aimless voyage.
I'm not sure what's going on here. It's pretty clear that the band wanted a more direct approach after the languor of Love Kraft and even Phantom Power, as evidenced by the rapid fire attack of Gateway Song that kicks off the album. This attitude certainly prevails on the first half of the album, where the band is making its point quickly and getting out no less rapidly. This recalls the take-no-prisoners feeling of the early albums like Radiator. They also revel in the off-kilter weirdness of those albums in songs like Neo Consumer, where the catchiness is undercut by an inability to place the sound into a standard pop context. This had been a band specialty, and is a welcome re-development. There are at least a half dozen decent songs here that live up to the SFA brand name.
In the end, Hey Venus! is a marked improvement over its predecessor, even though it eventually succumbs to the same faults. I don't know whether to call it a near miss or a near hit. Fans will find worthy additions to their catalog, but I can't recommend this as a starting point for newbies. At least they haven't entirely lost their fractured minds.
17 September, 2007 - 19:29 — Alan Shulman