Music Reviews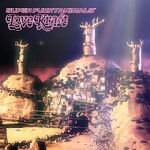 Super Furry Animals Love Kraft
(Sony)

What was it that George Bush said about the "soft bigotry of low expectations"? Screw that. What about the hard bigotry of high expectations, because that's what I'm about to lay down.
What on God's Green Earth is happening to the Super Furry Animals? Diehards from the Fuzzy Logic days were irritated by the "sellout" represented by 2001's Rings Around the World, which brought them significantly increased exposure. This was a typical reaction to the obscure, sometimes difficult cult band focusing their vision, exploiting their strengths, and as a natural result, creating something more palatable. This "fuzzy logic" would have kept the Beatles in the Cavern Club and decried the "sellout" of She Loves You. Nonsense. Just as typical is the post-Rings slack being cut this extraordinarily talented band with their recent releases Phantom Power and particularly Love Kraft. AMG's Stephen Thomas Erlewine, a critic I have a lot of respect for, goes so far as to label it "excellent" and a "rich, rewarding experience". I'm not so sure how often we'll want to relive this rewarding experience five years hence.
These reactions are understandable and owe a lot to inertia, the tendency for us humans to find a comfort zone and stay there. I'm engaging in a bit of it myself by expecting great things from these guys. Further complicating the issue is the fact that on some level, almost all of their material is intriguing or at least listenable. If history is any judge, SFA is not likely to record a lot of simply bad songs. They have an uncanny ear for melody and they know a good chord change when they hear it. The problem is there is something missing - let's call it the Magic. Like porn, you can't describe it, but you know it when you see, or hear, it. Since it's my job to describe it, all I will say is that the Magic is achieved when the music surprises and delights, not simply pleases. Rings, Radiator, Mwng, all had the Magic. Phantom Power showed signs of losing it, but was strong enough to offset the loss. With Love Kraft it seems to be gone completely, and what is left is nothing but some pleasant tunes, with the obligatory blip/bleep thrown in to satisfy the core constituencies. If this were a debut album you might be justified in expecting great things in the future, but sadly SFA's trendline is moving in the other direction.
What do the critics say the highlight is? Lazer Beam? I don't think so. Like so much here, it has a mildly infectious hook rendered tedious by repetition. The successful songs are the most conventional. Atomik Lust is a keeper, with a couple of decent freak-out sections. Walk You Home, Frequency and Cabin Fever are decent mid 70's soul infected charmers. The rest sounds uninspired or, like Oi Frango and Cloudberries, pointless.
I saw SFA live in Vermont a couple of years ago and they were as loveably bizarre as ever. Frankly, Love Kraft sounds like a different band, which would be fine, if it wasn't so less loveable and not nearly as bizarre. I won't speculate where they will go next because the latent strength of this band should not be underestimated. We should all keep listening.
Docked a point for the intense letdown. The hard bigotry of high expectations.
15 October, 2005 - 23:00 — Alan Shulman