Music Reviews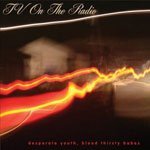 TV On The Radio Desperate Youth, Bloodthirsty Babes
(Touch and Go)

The Walkmen. Interpol. The Yeah Yeah Yeahs. The Strokes. Seems like New York's got pretty much every hot new band of the past two years. Well, guess what? Here's another.
It was with good reason that TV on the Radio's first LP was one of the most heavily anticipated releases of 2004. Their debut EP, Young Liars, flawlessly grouped trip-hop beats with opaque keyboards and majestic, gospel-tinged vocals, and included one of the catchiest songs of 2003, Staring At the Sun, which copped its momentum from a desperately heavy guitar riff from the Yeah Yeah Yeah's Nick Zinner, not to mention a vocal contribution from Love Life's surprisingly-manly-sounding Katrina Ford.
And Desperate Youth, Bloodthirsty Babes picks up right where their last record left off, opening with the three most fully realized and powerful tracks on the album. The Wrong Way is based on swarthy saxophones and a distorted guitar that seems to be set just left of self-destruct. A slightly re-edited Staring At the Sun follows, before the albums peaks with an early contender for 2004's song of the year, the subtle but meticulously crafted Dreams, which dips and soars all over the sonic map, demanding to be played endlessly on repeat. Each song is effortlessly powerful; perfect combinations of poignant songwriting and erudite lyrics.
After that, however, the album is like a slow slide downhill. Like on Young Liars, TVotR serve up an a capella offering, which is either completely obnoxious or incredibly brave, depending on your point of view. It's definitely a defining moment on the album though; TVotR refuses to conform to any kind of archetypal notions of what indie rock should consist of.
This kind of thinking, however, will undoubtedly produce a few missteps, and the band seems to lose direction near the end of the album with meandering jams (Bomb Yourself, Don't Love You) and questionable lyrics (Poppy). In fact, the more the band strays from Tunde Adebimpe's Superman vocals, the less successful TVotR is. He has a Jeff Buckley-like ability to make any lyric resonate with meaning simply due to the authority with which they exit his mouth. While a good number of popular indie rock tunes use vocals as mere placeholders, the most successful tracks on Desperate Youth almost seem to throw the formula back on itself, each song constructed to give Adebimpe a canvas on which to display his luminous, bluesy voice, especially when used in conjunction with guitarist Kyp Malone's more understated, yearning harmonies.
The album ends on its lowest note, the plodding Wear You Out, a soulless retread of the Young Liars cut Blind, which goes out of the way to prove that even with Adebimpe's penetrating vocals, the band can sound mind-numbingly indistinct.
But some of these complaints can only be registered in comparison with Young Liars - which is too bad, really. It's rough when producing an amazing record is held against a band just because they are unable to replicate it. Unfortunately, that's exactly the situation surrounding Desperate Youth's release; their initial EP documented a band that sounded ready to take on the world - but the follow up just shows that the journey may take longer than expected.
25 April, 2004 - 23:00 — Brian Graham