Music Reviews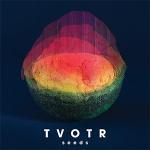 TV On The Radio Seeds
(Harvest)

There is nothing more shattering than death. The loss of TV On The Radio's bassist Gerard Smith in 2011 blew a hole in the band and, as
Tunde
Adebimpe
said, "could have stopped the band cold." After such a tragedy, it would have been easy for the group to write a mournful affair. But
Seeds
, their fifth album, is also their most life-affirming, taking stock of the friendship that exists among the members and the ecstasy of being alive.
Seeds does not aim for the apocalyptic chaos of Return to Cookie Mountain or Dear Science. Instead, it treads farther down the introspective path of Nine Types of Light, just with a different target in mind. At its purest, this is a love album, though not necessarily a romantic one. Instead, it is about love for others, love for yourself and what it means to love.
"Could you love somebody? Could you strip the ego bare and let love take flight?"
Kyp
Malone sings on
Could You
, over a driving
Beatlesque
guitar lick, boosted by parade horns. It's an absolutely exuberant song in a way that few other numbers in the band's catalog can match. Meanwhile,
Careful You
snowballs a stuttering
synth
into an outer space chorus, kept grounded by
Adebimpe
, who pronounces the title as "care for you."
Even when the band lets melancholy seep in, the music remains fairly upbeat and the lyrics talk about getting through such moments. This is clearest on
Trouble
, where
Adebimpe
instructs everyone to "put your helmet on, we'll be heading for a fall," over folky guitar. On a chorus is bursting with desperate joy, he shouts out "don't worry, be happy," with enough emotion to wipe out that Bobby McFerrin song.
Of course, happiness can come from not knowing or choosing to ignore the negatives, as it does on Happy Idiot. The understated guitars and vocals slide underneath a wall of synths. Although the song is decent, it's the weakest single TV On The Radio has released in a decade.
Not only is Seeds the most direct and optimistic album, but in some ways, it's their poppiest. The vocal melody of Test Pilot, with its speak-singing verses, falsettos and harmonies, sounds like a R&B jam from the 2000s, though it would be better than nearly anything that made the charts. Love Stained does the same, though it's a little more musically harsh.
Although the slow and mid-tempo tracks excel, the band can still write a blistering rocker. Lazerray is their take on punk, a song moving at a million miles an hour that will get your heart pounding and feet jumping more than any track outside of Wolf Like Me. This should be part of their live set...pretty much forever. Winter is no slouch either, with a nasty, distorted riff that simulates the feeling of being pounded by a blizzard.
TV On The Radio's music has always revolted against enemies, whether they were political problems, social barriers or heartbreak. On Seeds, they wage war against cynicism and despair, coming out on top. Instead of shrinking before death and darkness, the band is planting a new seed, growing into a stronger entity than it was before.
30 November, 2014 - 04:50 — Joe Marvilli