Music Reviews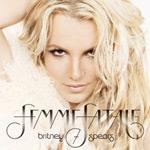 Britney Spears Femme Fatale
(Jive)

Femme Fatale is the seventh studio album from Britney Spears. In a career spanning 13 years - a lifetime in pop terms - there have been hits, some misses and a very public meltdown from which she appears to have never fully recovered. 2007's electro freak-out, Blackout, took her into dance territory, and it was a direction which suited her new, edgier public image surprisingly well. Blackout became a career highlight and was followed up by the decidedly patchy and less focussed Circus in 2008.
Femme Fatale is essentially a producer's album with all the studio trickery, attention grabbing sounds and detached vocals that we have come to expect from a Britney Spears release. In essence, it's the follow-up to Blackout that Circus should have been, and continues the dance and electro feel of that album whilst throwing some more influences into the mix to keep things fresh.
A multitude of pop's most proven hit makers have a hand in this album, including Dr. Luke, Bloodshy, Max Martin and (surplus to requirements) Will.i.am. The opening track, Till The World Ends, kicks things off with electro squiggles, synth hand-claps and is suitably euphoric. Hold It Against Me adds double-entendre to euro-pop hooks before culminating in a dubstep breakdown which exemplifies that pop often works best when stitched together with dance music's fledging forms. Nothing else on Femme Fatale is as attention grabbing as this opening pair of hits, but the chopped up and reconstructed How I Roll comes pretty close and Up 'n' Down samples Inner City's 1988 house classic Good Life to dizzying effect. The album is so synth-led that hearing the simple guitar lines on Criminal and He's About To Lose Me (from the Deluxe Edition) is refreshing.
The lyrics on display are as one-dimensional as ever, but did anyone ever want or expect a Britney release to be anything more than surface polish and the aural equivalent of candy floss? The phoned-in sounding vocals are suspiciously heavily ghosted in parts, but they suit the cutting edge settings and conjure up images of dancing cyborgs. At present, the female pop market appears to be reaching saturation point with the likes of Ke$ha, Katy Perry, Nicole Scherzinger and Rihanna all claiming a part of the 'post-Gaga' gold rush. Femme Fatale equips Britney with material which is strong enough to enable the original all-American Pop Princess to hold her own in such an overcrowded context.
4 April, 2011 - 08:25 — Gary McGinley